Mireille Feuillie-Casalis, or when "a ray of sunlight gives the brush an alert heart"
Mireille Feuillie-Casalis, or when "a ray of sunlight gives the brush an alert heart"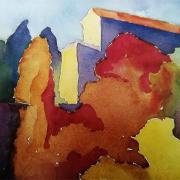 FR - Originally from the South of France, and a Uzétienne by adoption, the painter Mireille Feuillie-Casalis loves colour.
"I was born in the middle of boxes of pastels and watercolours..."
From the Beaux-Arts of Nantes to the illustrations of her doctoral theses during her studies in biology, from the inspiring exchange with Moroccan artists, strong of their "non-figurative tradition, more open to form and decoration" during her years in Casablanca, to the artists' workshop she runs in Uzès from the end of the 70s, Mireille Feuillie-Casalis pursues her training and gradually returns to watercolour, an art all in delicacy and poetry.
"A world of creative freedom..."
Questions such as " How to say what we see in what we look at ", but also encounters, such as the one with the painter Henri Lindegaard who is looking for "the way to approach the flat surface of the support by means of watercolour painting", make her works evolve over the years.
Grace, emotion, gentle brushstrokes, a brilliant choice of colours, Mireille Feuillie-Casalis' watercolours are a bit of everything.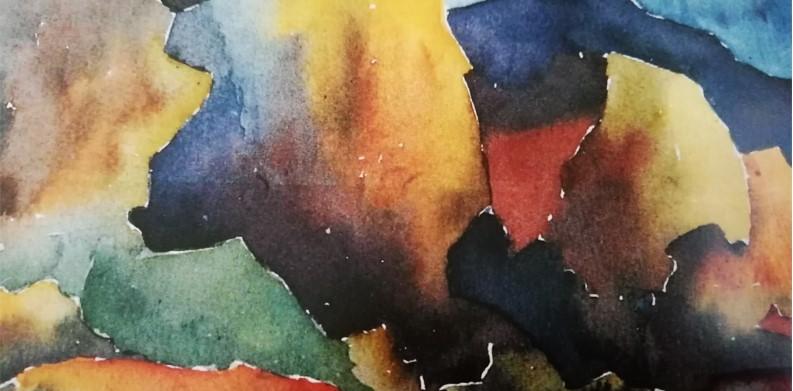 "The lightness and transparency of watercolour give life to the colour pigments... and the effort of abstraction is more intense... "
Hello Mireille Feuillie-Casalis, and delighted to count you among the portraits of UzEssentiel.
You are a painter but also a biologist. How did you manage these two extremely demanding occupations?
Quite simply because, after 3 years of professional activity, the choice to turn to painting came spontaneously I might say.
Since painting has always been present in my life, deciding to devote myself entirely to it was, in a way, logical for me.
You have been inspired by the art of the regions and countries where you have spent time, such as Corsica and Morocco. What are the greatest lessons you have learned from this encounter with other cultures ?
It was in Corsica, where I first settled with my family, that I started to paint from time to time. The beauty of the landscapes and the time I had available allowed me to start creating.
Then came Morocco, where I signed up for a painting workshop offered by the French Cultural Centre. There were European women and some Moroccans, such as a high school drawing teacher, a cabinetmaker and students from the Casablanca School of Fine Arts. We met for a year, and it was really extraordinary.
Moroccan painting is more oriented towards Abstraction, perhaps because of the country's Muslim culture. There is little or no landscape or quiet nature.
You were a student of famous painters, but also a source of inspiration for amateur artists. How were your classes and who were they for?
I am now retired, but I did indeed run a painting workshop, open to everyone from 7 to 77 years old, for almost 30 years.
I created this painting workshop within the framework of the M.J.C, Maison pour tous (Cultural association for all), when it reopened in 1979. It was located in the premises of the current Media Library.
In 1992, the M.J.C. moved to the old barracks, where you can find the Croix Rouge and the art department of the Lycée polyvalent Charles Gide. I set up this workshop - like the first one - in such a way as to encourage creation and to make budding artists feel happy : easels, brushes, acrylic and oil paints, pencils were freely available to everyone.
Open all day, ten to fifteen adults met there each week and every Wednesday a dozen children.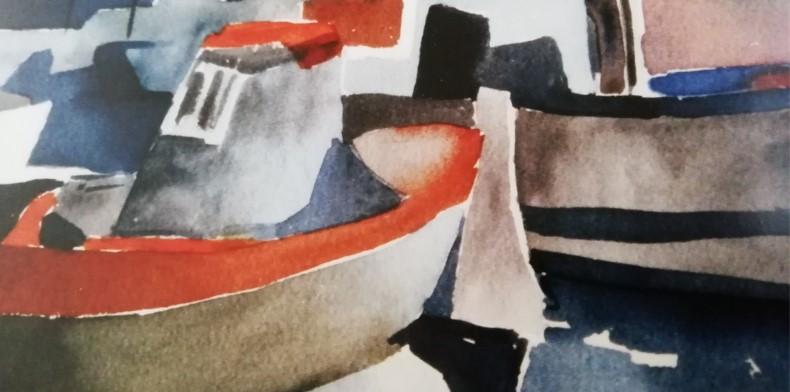 I presented contemporary painting, what is a drawing, painting, colour, composition and also proposed outdoor workshops - the Eure valley had no more secrets for us. We also visited exhibitions and museums in the surrounding area, and even in Paris.
We also worked on works by the French-Uruguayan poet Jules Supervielle. Another way of looking at painting. Similarly, the live model was the subject of our study. Finally, I organised watercolour workshops.
The main concern of my workshop was to awaken the eye of each person on everything that surrounds them.
Most of the people who took part in my workshops were women, who were more sensitive to the artistic side and wanted to interact with other amateur artists. But there were also a few men, and some young people who have since moved on to the plastic arts.
Could you tell us about the genesis of a painting? What are the stages of its creation, from the first sketch to the final touch? What are your sources of inspiration, does a theme come to mind following a visit, a colour, a season ?
A watercolour takes about 2 or 3 days of work. First of all, you have to build your project, do some research, prepare a sketch, choose the colours... after a long period of reflection
A favourite colour ? Well, maybe blue. For me, blue represents the atmosphere, the air, life. It comes naturally.
What subjects do I like? Without a doubt the plant element, the tree in particular. And the portrait has my particular favour.
If you had to choose one painting among your works, what would it be?
The choice is difficult because I like them all. Let's say that, in the watercolours, I would select several, and in the oils, only one... accompanied by almost all the others !
You have exhibited since 1977, when you moved to Uzès. Your last exhibition was at the Galerie des Capucins. Do you have a next exhibition date planned?
To celebrate the 50th anniversary of the Maison des jeunes et de la culture d'Uzès, in 2022, we will probably schedule an exhibition early in the year.

More information on the artist's website
Extracts from the book by Mireille Feuillie-Casalis, Watercolours: a path, 1980-2020