The ethnic masks of Sylvaine Delivré
The ethnic masks of Sylvaine Delivré
For more than 25 years, Sylvaine Delivré has devoted herself to creation: jewellery, bags looking like the ones of the thirties, but also ethnic masks.
Sylvaine Delivré is a skilled bead embroiderer and has been exhibiting some of her last models at the Maison des Artisans d'Art in Uzès since April 2022.

Inspired mainly by Africa, these masks, each requiring at least 80 hours of work radiate an aura of mystery.
The technique of "Lunéville embroidery", which Sylvaine learned "from the famous embroiderer François Lesage", allows her to create masks with great subtlety.
A great French embroiderer who worked for Chanel, François Lesage has become a world reference in this art.
He liked to say that "Embroidery... is creating with discipline, suggesting while seeming to follow,
to have a divine but wise imagination. It is not quite an art, but it is more than a craft... "*.
The attention to detail, the arrangement of the beads, reflect the attention and know-how of the artist, a member of the Ateliers d'Art de France since 1999.
To know more: The "Ateliers d'Art de France federate more than 6,000 art craftsmen, artists and art factories throughout France" (ateliersdart.com).
Hello Sylvaine,
And thank you for participating in the Art de Vivre section of UzEssentiel.com,
Is your desire to work with metal, pearls, the result of a personal desire to invent unique objects or do you come from a line of craftsmen?
No, I don't come from a family of craftsmen. However, as far back as I can remember, I have always had a personal desire to create unique objects.
After jewellery and bags, you decided to start creating ethnic masks. Why this choice?
My passion for ethnic masks goes back to the immemorial history of these attributes. From traditions to secret, sacred rituals, the mask often reveals itself as a link between the living and the mystical, just as my current creations federate in some way the know-how I have acquired during my "long" life as an Artisan d'Art and the teachings I have received. This know-how is like a melting pot, both artistic and cultural.
How are you inspired, do you have models?
All my creations are inspired by Africa. I am fascinated by the fact that in Africa, the mask, whether it is made of wood, fabric or leather, creates kind of a relief in relation to the character who wears it, an approach to his belief perhaps even... The choice of materials that I use for each of the masks that come out of my workshop also allows my inspiration to follow its course.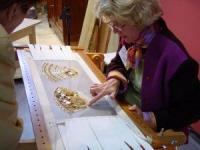 A mask requires about 80 hours of work. It is a unique piece. Can you present the different stages of its creation?
First of all, there is the creation of the design of the mask on silk organza.
Then comes the choice of colours for the beads, pearls and stones, and the embroidery, which is done on the loom using a hook, in Lunéville style.
Afterwards, I proceed to the gluing, then to the dismantling of the embroidered piece, followed by the preparation of the metal framework, annealing of the metal at 1000°, the assembly of all parts and gluing of the whole onto the leather base. I finish by shaping it on a mould.
What materials do you use? For example, do the masks have a metal base, parts made of precious metal...? Do you have favourite materials?
I like to work with crystal beads, hard or semi-precious stones. I also appreciate the antique crystal motifs, the "half-red" metal, a copper-brass alloy, for the frame.
As for leather, it is a very pleasant material to handle, and ideal for masks. To finalise my creations, I use glove thread, a sure value.
Did you know ? "The main difference between beads and pearls is that beads can be made from a variety of materials, whereas pearls form from shells of some mollusks" (pediaa.com)
Do you take part in shows, craft fairs or conferences to present your work? Do you collaborate with the fashion world, like designer houses?
I've been taking part in many trade fairs since, let's say... forever! As for the fashion world, even if it is very attractive and particularly fascinating, I do not wish to be part of it, wishing above all to preserve my sacrosanct independence.
Apart from the Maison des Artisans d'Art in Uzès, where else can you show your work in the Gard, in France and even abroad?
My creations are on permanent display in my workshop in Clarensac, near Nîmes. As for my exhibition schedule, it is still being prepared... See you soon on my website for more information!
To answer your master François Lesage's quote, how would you define art embroidery?
For me, art embroidery is synonymous with escape and magic!
La bonne adresse : Atelier Sylune Créations, 4 impasse des arènes, Clarensac.
Photo travail métier©Syvlaine Delivré. * wikipedia François Lesage