A gourmet visit at the Calade brewery, in Sanilhac
A gourmet visit at the Calade brewery, in Sanilhac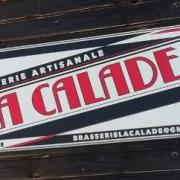 UzEssentiel has been lucky enough to visit the artesanal La Calade with its owner, Vincent Laudescher, in Sanilhac.
A brief presentation
Located in Sanilhac, the micro brewery is named after the typical paved roads of Provence.
After working a full year on various assembling recipes, Vincent Laudescher finally launched for good, in 2016, his confidential production.
La Calade is, first of all, a personal adventure. From his early career as a baker, Vincent has kept the taste for research and creations. Playing with different mixes and aromas, Vincent explores surprising if not different combinations, between hop, rye, alcohol, fruits (mango, fig...)...
« Creating living, non-filtered and non pasteurized beers, with no conservative nor additive »
If you want to taste some of La Calade beers in Uzès, there are plenty of places to go : Namaspamousse, the Marchand de vins, and restaurants, such as La Maison d'Uzès, La Famille. In Argilliers, at the restaurant Le Tracteur, at Castillon-du-Gard at the Vieux Castillon and even in Nîmes (the Mas des agriculteurs) and near Aigues-Mortes (the Mas des jeux).
« Coming in June 2021, the summer brew Blanche citron Basilic, a fresh white beer mixing lemon and basilic »
This summer, the promising summer brew « Blanche citron Basilic », with the taste of the basilico genovese, is a harmony between the tangy citrus and the freshness of the aromatic plant. Its base ? A German weisen with some twist of organic Sicilian citrus and fresh basilico genovese.
This summer brew has something of two renowned white beers : the Bavarian weizen, sweet and sparkling, and the more traditional Berliner weisse, adding its sour touch.
The Blanche citron Basilic Made in La Calade do reminds us of the Twist cocktail and Vincent got the idea of it after tasting a lemon and basilic ice cream some time ago. After giving it a tought, elaborating and experimenting, Vincent finally found the right recipe.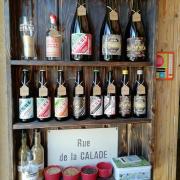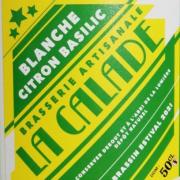 Lager, amber, dark and spirit beers...
Want to make your choice ? Well, there is the lager, the pale ale, the Indian amber pale ale, the Dark Calade, an almost black stout, each of them so very thirties labelled !
What else would you ask ? There are special vintages : the Hans lager, the Milk Stout, the Irish Dark Side. And then there are the Spirit Sisters, strong characters beers, kept long enough in, for the first one, an Armagnac barrel, and for the other one in a Brandy barrel, an operation which gives them a delicate liquor aroma.
To close the list, here is the Tropical Moonshine, a very special artisanal brandy with a unique bouquet.
You like whiskey ? By the end of 2022, a La Calade whiskey, which would have an amber color, will complete the range. We are so looking forward to taste it !
The right direction : Brasserie La Calade, 7 chemin des Grandes Aires, Sanilhac. Phone : 06 46 19 21 43, brasserielacalde@gmail.com