The Séquence boutique, in the heart of craftsmanship
The Séquence boutique, in the heart of craftsmanship
Séquence, a newly based in Uzès boutique , promotes local craftsmanship. It's a trademark and a clear commitment to select designers from the south of France, but not only.
In Séquence, we can find names and skills such as Olivotte, Elsa Lenthal, Flor do Sertão, Poésie de galets, Lin Mandarine, Vannerie Vergan...
The blog editor pushed open the door of this Provencal jewel case, right in the heart of Uzès.

LET'S CHAT
Delighted to welcome you to the lifestyle section of the blog.
You opened Séquence last June. But you came from a completely different line of work. Can you tell us about this transition, giving its place to French craftmen?
I spent my professional career working for a major French cement group. For 27 years, I held various administrative and commercial positions in the group's laboratory, including the last 15 as Purchasing Manager.
2018 marks the first turning point in my personal life, which has had an impact on my professional life. I'm realising how important it is to take time for myself, and above all I'm learning to put my professional life on the back burner.
2020 covid year. Time stands still. I observe, enjoy and finally ask myself the right questions. Verdict given in 2021: my work bores me. There's no more time to lose, 27 years in the same company is far too long, and if I don't move now, I never will. So I've decided to put the skills I've acquired in the workplace - buying, selling, analysing, managing and innovating - to work for my passion, craftsmanship, a field that unites my values of sharing, passing on and adding value.

Why the name Séquence?
Séquence... Well it is a clear reference to the different product universes on offer, which form planes to represent a scene, unity. It's also a reference to this new turning point in my life.
How many brands do you have on display today and how do you manage finding your craftmen an designers? How do you go about making your selections: favourites, acquaintances, trade fairs, etc.?
Séquence currently offers around 25 craftmen and designers. It's a demanding selection of original and unusual pieces, preferably local, in the fields of decoration, urban and sports fashion, well-being... This special range is rooted in the history of Uzès, its heritage, its culture, its terroir and the surrounding countryside of the Gard.
I wanted it to be both poetic and graphic. I selected the artisans and designers during my personal travels, as well as at various craft fairs and local designer markets. Fabric animals, lavender spindles, clothes, jewellery, pottery...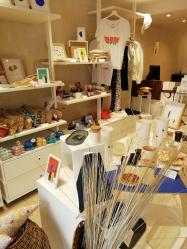 A wide choice and one word: quality. How would you define your own identity?
I'd like to combine exclusivity with the spirit of the times, by promoting and defending the work of craftsmen and designers, and know-how that is, in some cases, ancestral. I'd also like to encourage local trade through short distribution channels, to ensure that consumption is in tune with today's concerns.
Do you plan to take a tour of your designers, changing collections according to the season, for example?
Yes, the pieces that go out are replaced by others, but I don't necessarily follow the seasons, I go with my heart.
When we first met, you mentioned your desire to organise creative workshops and photo exhibitions... Do you have any other plans? Perhaps some partnerships with art galleries? It could be interesting to see your different worlds interact don't you think ?
I'm currently working on setting up workshops, including an olfactory workshop in collaboration with the region's only olfactory designer, an introduction to embroiderie with a craftswoman with a thousand strings to her bow, a workshop using collage as a means of expression... and many more!
I'll be exhibiting in the same workshop room adjoining the shop, initially with photos, and then I'll be coming up with some ideas that haven't been worked out yet.
Would you like to add a detail?
Séquence will soon be opening its website to the public, but you can already find us on instagram. Good to know: We're also listed on Google and on the Office du Office du Tourisme website!
Many thanks to Marie-Laure Clergue for her contribution to this article.
The right address: Séquence, 8 avenue Général Vincent, Uzès. Tel: 06 10 48 86 73.