Medieval immersion at Allègre castle
Medieval immersion at Allègre castle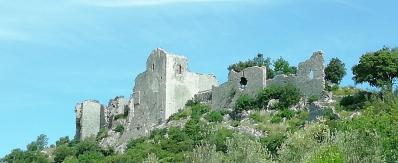 Standing on a 300 m rock wall, the Allègre castrum overlooks the Serre Fourré ravine.
Stunning view to the Mont Aigoual, Mont Lozère and Mont Bouquet
In the distance, there is a stunning view to the Mont Aigoual (1567 m), the highest summit of the Gard, and the Mont Lozère (1699 m) in the Cévennes. Closer in distance, there is the Mont Bouquet, much shorter, only 629 m.
Classified Monuments Historiques in 1997
The castle, restored thanks to the dedication of the Château d'Allègre association founded in 1992, can be reach following a stony ramp, which leads starting from the parking to the lower part of the castrum, known as the knights village.
A village, 2 houses, a palatial complex, towers…
Passing the village, we enter the castle. On the left part, a little garden is taken care of by the volunteers of the Rempart association (a heritage association, with workcamps).
Then, the ruins of the little chapel (around 11th century) lean on the walls of the castle and near the 14th century fortified gate since the chapel was encompassed in the castle walls, in 1383.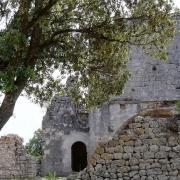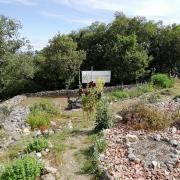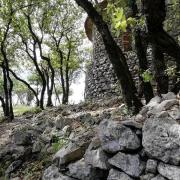 Following the visit, we see the Loubier house, an ancient watchtower, the Laurent Vincent house and the palatial complex, strictly speaking.
The South tower, the North tower... remind us that the medieval castles were supposed to defend place and people.
From the South tower overlooking the ravine to the North tower where can be seen a meurtrière (a murder hole), the place is impressive.
Finally, the East house, who initially had 2 floors, was taking care of the security on this part of the castle, facing the path leading to the little Saint Saturnin's chapel.
To the chapel
If you feel like walking a little more, you can follow a 1 kilometre path up the hill to the Saint Saturnin's chapel
Have a look at the surrounding panorama, it gives a splendid view, and some clues on the reforestation in this area.
The chapel, restored, is named after the 1st bishop and martyr of Toulouse, in the 3rd century.
Good to know : an orientation table allows to better discover and appreciate the destinations in the horizon.
More information : Association Château d'Allègre