Discovery flight at the Uzès Flying Club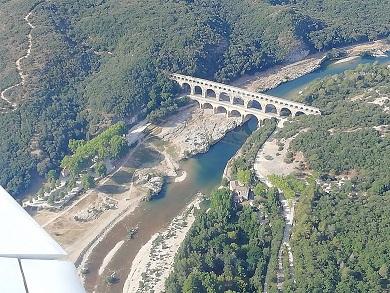 Discovery flight at the Uzès Flying Club
Here we are ! There is no turning back as we booked a discovery flight at the Uzès Flying Club, not far from Belvézet, on the road leading to Lussan.
This half an hour special tour is going to take us flying over Uzès, Saint Quentin-la-Poterie and, the highlight of the flight, the pont du Gard. Quite a treat indeed !
This is a first for us to visit the country up in the air.
Fasten your seat belts, connect your headphones and... take off !
After a brief presentation of the plane, the cockpit, the autonomy of the plane (phew, we are safe !), its speed, the radio frequencies the pilot uses, well... we take off after a good kilometer run.
We are grateful to the pilot to comment on the countryside, the villages and, of course, the impressive pont du Gard
Going back to the flying club after a too short flight (and having just one idea, going back in the air once landed), we have a quick look at the Belvézet photovoltaic plant.
About the flying club
Founded in 1955, the Pont Saint Esprit Flying Club is kind of the precursor of the Uzès Flying Club, founded in 1963. United in 2010, the clubs are known since then as the Uzès Flying Club, and administered only by volunteers.
Experienced pilots and learners are sharing there a same passion and key word : flying.
Planes and club facilities
A small flotilla of planes includes a two seater Jodel D112 and two Robin, DR400-120 and DR400-140 (carrying up to 4 people), along with ultralights.
The right direction : Coming from Uzès, on the road going to Belvézet and Lussan (D979). The Flying Club is on the rightside, not far from the bifurcation for Belvézet. Tél : 04 66 59 65 62.