Follow the guide and visit the church of the Monastery of Solan

Follow the guide and visit the church of the Monastery of Solan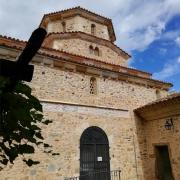 In the courtyard of the Monastery of Solan stands, since 2017, the lovely church dedicated to the Mother of Christ
A Byzantine architecture and an orthodox vocation
The church, built mostly with stones of the region, and particularly of the monastery domain, of grege, beige, and even golden colors, is dominated by an ethereal dome, of octagonal shape, which reminds us of the Byzantine architecture, and the orthodox vocation of the monastery.
Welcomed by Saint Simon
Before entering the church, the visitor is welcomed by Saint Simon, a painting recording the colors of the fresco which is actually created inside, over the sanctuary.
Entering the church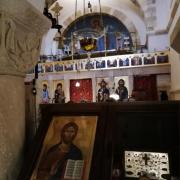 Composed of a narthex, a naos – where stands the believers, a choir (kliros), the church has beautiful columns too, decorated with flowered capitals, and sometime some decoration of the sacred iconography.
The dome, with its numerous openings, offers a light-dispersing atmosphere propitious to prayer.
The beautiful Iconostasis of the church presents the icons of the place. On each side of the holy doors leading to the sanctuary stands the Holy Virgin – a Virgin with the child and a Virgin with a veil, holy patroness of the church. Then comes the Christ and Saint John the Baptist, the latter being representing the link between the Old and the New Testament.
Over the icons and the sculpted stone, we can see 15 beautiful painted sceneries of the holy scriptures, such as the Nativity and the dormition.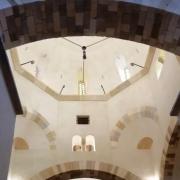 The upper gallery, where believers can attend mass, is ornamented, on the part situated over the sanctuary, by a large painting, which is actually being realized.
Many thanks to Sœur Iossifia, for her precious collaboration with this article.
The right address : Monastère de Solan, 1942 Route de Cavillargues, 30330 La Bastide d'Engras. Tél : 04 66 8 299 12. The Monastery of Solan is the right place to buy biological products, such as wine, jams, etc. You can find in the shop those products, but as well books, cds, incense, icons and so much more.