Ciguë, just enjoying flowers company
Ciguë, just enjoying flowers company
Ciguë is a most poetic shop.
Situed rue du 4 septembre in Uzès, it is specialized in dried flowers in bunches, soliflores, wreaths...

Let's push open together the doors of this green setting in the heart of Uzès, few steps from the Place aux Herbes, to breath the pastoral atmosphere...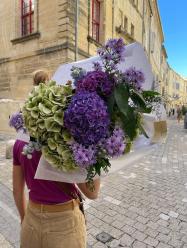 LET'S CHAT
Hello Laure,
Delighted to welcome you to the Lifestyle section of UzEssentiel.com.
Can you give us an insight of your life before becoming a florist?
A life between town and country where the desire to be useful was prevailing.
I embarked on a social career after a humanitarian mission. I was convinced at the time that I had to work to reduce inequalities, and this work was my greatest commitment.
I threw myself into it until I was felt exhausted. This first career path gave as much to me as it took. It was a rich learning experience, and I still carry it with me!
What made you decide to live among flowers? What training did you have, particularly in bunches composition and colour harmony?
As far back as I can remember, I always wanted to be a florist. When I decided to change careers, I took the CAP training (a professional course in France) and worked with several 'mentors', florists whom I admired.
I needed to enjoy the work of others to make the most of this career change, and it had to be as strong as the passion I already had. For me, the CAP training was a necessary step in order to establish a certain legitimacy for taking another career path.
But the apprenticeship was much broader than that, as it involved moving towards a cinematographic, artistic and musical aesthetic. It meant working on my eye for materials, shapes and colours. That's how I learned about the meaning of flowers and their uniqueness. That's when my passion took on a new meaning.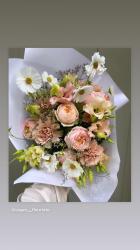 Ciguë is a very peculiar and somewhat ominous name for your shop... How did you choose it?
First and foremost, Ciguë is a wild flower with an interesting phonetic name. Like many plants, it is wrongly misunderstood. There are in fact two types, one edible and the other poisonous. I liked to evoke this duality between man and nature.
Why did you choose Uzès for your shop?
Because Uzès is a town rich in heritage, inspiring. It was there and nowhere else.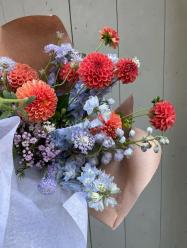 You decided to present French flowers, plants.... How do you make your selection?
I'm committed to promoting French flowers, because I want to play my part in the redevelopment of the horticultural sector for obvious ecological reasons.
But although this was obvious to me, I very quickly came up against structural, logistical and production limitations. Working only with French flowers takes up more of my time.
I give priority to flowers from the Var and work with a local grower in the summer months, while constantly looking for new growers. The most virtuous
would be to produce my own flowers.
You advocate delicate dried flowers. Textures, colours... Are some flowers/leaves/plants better suited to drying than others?
No, nothing is impossible! I'm in favour of the perennial flower and the idea that its memory can remain.
You work with a number of good addresses in and around Uzès... How does this kind of partnership work?
First of all, it's a question of meeting them, and then sometimes the desire to work together emerges. I like to seize these energies because they are creative for me. A passion is shared, mixed and intertwined.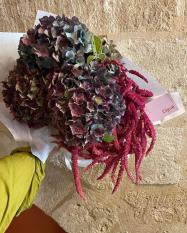 Where does start you art in flowers, bunches, decorations?
Do you plan to share your knowledge on flower arrangment in workshops one day?
Observing nature, its seasonality, its movement, that's where it all starts.
And yes, I'm thinking of opening workshops. I'm actively thinking about the way to do it, because I'm very attached to simplicity. The workshops must be accessible to anyone and look like Ciguë and me.
If you had to compose a bouquet for each season... what would it be - autumn, - winter, - spring or - summer?

I'm particularly fond of two seasons, autumn and spring, one for its colours that evoke a gentle summer nostalgia and the other for the verdant rebirth of nature.
I don't have a favourite flower, so I don't have a favourite season. I prefer to tame the unknown and be surprised by the commonplace.

Many thanks to Laure, from @Ciguë, for her collaboration on this article.
The right address: Ciguë, 2 rue du 4 septembre, Uzès. contact@cigue-fleuriste.com. Open Wednesday to Saturday, 10am to 1pm and 2pm to 7pm.