A sweet and savoury meeting with Petra Carter, chef at Le Pistou cooking school in Uzes
A sweet and savoury meeting with Petra Carter, chef at Le Pistou cooking school in Uzes
Have you noticed? The editorial team at the UzEssentiel blog is passionate about local produce.
So... it didn't take long to decide to have a chat with chef Petra Carter, who runs the Le Pistou cooking school, just a few steps from Place Albert 1er.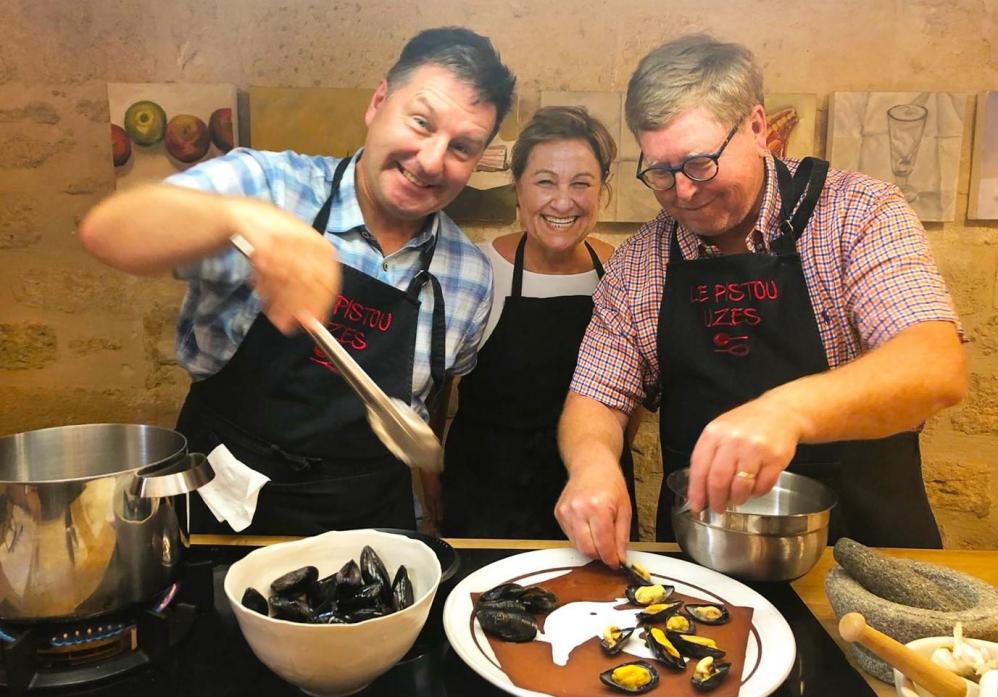 LET'S TALK

Hello Petra, Delighted to be here with you to discover Le Pistou.

You're Dutch, studied French literature in Paris at 16, travelled extensively with your husband before returning to Europe... These travels in foreign lands must have had a strong influence on the way you cook, don't you think so?
Although I was born in the Netherlands, it was complicated to get a Dutch passport. So the only passport have is the Irish one, and I consider myself Irish rather than Dutch...
I studied in Paris for 3 years from the age of 16, while working as an au pair (I was earning 200 francs a month at the time and recently got a nice surprise from the French government to tell me that I was entitled to €30 a month pension for my contributions at the time. Fortunately, I've continued to contribute for the last 20 years in France).
At the age of 21, I left for Tanzania to manage tented safari camps at the foot of Mount Kilimanjaro. A very romantic set. That's where I met my husband, a bush pilot who used to transport tourists to my camp.
About my interest in cooking, it began when I was young, doing my homework in my parents' Indonesian kitchens.

You worked for the African Wild Life Foundation in Nairobi, designed gardens in Dublin, became a chef while contributing to several publications such as The Irish Times, Irish Tatler, Wine Ireland, Bon Appétit and even launched SQ Food. Not to mention your art degree...
Back in Ireland, I brought up the two boys we had with my husband while training as a chef at the Ballymaloe Culinary School. Then I work in restaurants, which wasn't always easy with kids at home, so I started writing about food for a number of publications, both Irish and foreign.
As photography was part of this work, it stimulated my artistic creativity. So I started art school in Dublin for six years and got two degrees in Fine Art.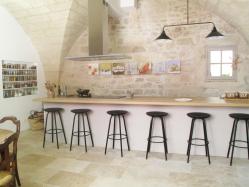 After running a B&B near Narbonne for about 10 years, you've decided to give another go.
Why did you choose Uzès, and how did you come up with the idea for your cooking school?
I wanted to change again, not just to travel but to start a new life experience. I bought a big old village house near Narbonne where people could attend my culinary and artistic weeks.
When this no longer paid my debts, I turned the house into a bed and breakfast. We soon attracted a lot of guests and quite good reviews, but it was far from easy to do it on my own. So, after 10 years, I sold my house and headed for Uzès. My intention was simply to run a cooking workshop without the difficulties of accommodation. I had friends here and I knew that Uzès had a 'gourmet side'. I loved this beautiful medieval town with its Roman roots.
My decision paid off! I love what I do and I love passing on my knowledge.

How are your cookery classes organised? How many people attend your classes? Are your students for the day local, on holiday, or on training courses?
My customers come from all over the world, but also from the region. They find me on Tripadvisor (I don't advertise) and by word of mouth.
I offer one-day courses in English and French, for a maximum of 8 participants.
In season, my English-speaking customers mainly want to learn about Provençal and classic French cuisine. But after the confinement, the locals asked me to include other cuisines and so, over the last 3 years, I've added courses on Indian, Indonesian, Lebanese and Spanish cuisine - my passions!
These courses have proved very popular outside the holiday period. And I'm delighted to have succeeded proving to the French that there's no need for hot spices in these foreign cuisines. Spice often hides the beautiful flavours.
We only do well what we like. Neither science nor conscience shapes a great cook. (Colette)
Interesting fact... I often have more men than women as customers, and they're more interested in savoury food to prepare in their spare time. It's often their mothers, wives, girlfriends and daughters who ask for a good gift for the men in their lives... Whereas, for most women, it's the pastries that are more important.
The discovery of a new dish does more for the happiness of the human race than the discovery of a star.
(Brillat-Savarin)
You start early in the morning and then...?
We start at 9.30am. We chop, cook and stir for 3 hours (during which time I explain local traditions, ingredients to buy or avoid, tips, etc), then we sit down at the table to enjoy a relaxed meal over the dishes we've cooked, with a glass or two of local wine. The day generally finishes at 3pm. Of course the participants (having made new friends) go home with all the recipes. Everything else (tools, knives, aprons etc) is also provided.

You focus on local produce. What has been your greatest terroir discovery to date?
The terroir of the south is intimately and undeniably linked to the land and sea. Provençal cuisine reflects its environment as much as its traditions and history. Our menus, our markets and our people follow the rhythm of the seasons, much more so than in other countries. Visitors and tourists not only notice this, but they see it as the ideal way to live too...
What is more, our sun-drenched produce bursts with flavour and colour. I can't think of a better place to be inspired, both to cook and to eat. And what about you? How could anyone resist all this?

Do you have, let's say, a signature dish or even... dishes?
There are far too many to mention. Variety is, after all, the spice of life!
Many thanks to Petra Carter for her collaboration on this article and the visuals she sent us.
Follow the steps of Petra Carter's Tomates provençales in the Recipe section.