Visit to the Priory Saint-Nicolas, in Sainte-Anastasie
Visit to the Priory Saint-Nicolas, in Sainte-Anastasie
The Prieuré Saint-Nicolas has been reinvented as a multi-faceted place, elegantly combining guest rooms, art gallery, concert hall and even a temporary restaurant during the summertime...
Join owner Arnaud Le Bihan on a guided tour that combines French lifestyle and gourmet delights.

The priory of Saint-Nicolas de Campagnac in Sainte-Anastasie
was part of the Order of Saint-Augustin of the Congregation of France, attached to the diocese of Uzès.
Although its origins date back to the 12th century, additions and modifications have led to numerous alterations over the centuries.
The church, with its barrel-vaulted nave, transept and semicircular apse, a showcase for the church's architectural heritage,
is the perfect setting for any art exhibition or for becming a concert hall.
Listed as a Historic Monument since 1987, the Saint-Nicolas priory is a precious witness
of the passage of time and monastic life in the département.
The priory's coat of arms: "Azure, a Saint Nicolas cross-legged and golden mitred, bearing a three-burse chaplain,
Or, on a three-arched bridge, also golden, masoned sable, and in base a silver river "*.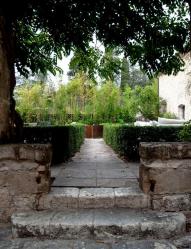 DISCOVERY
Hello Arnaud Le Bihan,
You've owned the place for three years npw and have just opened a multi-faceted residence, as you call it, mid July. How would you describe it?
When the Prieuré was put up for sale, the idea of combining a guest house with an art gallery as a temporary restaurant came as an obvious one. It also has the advantage of highlighting the true atmosphere of the Gard that my family and I have enjoyed for many years at our second home in Sainte-Anastasie.
Added to this is my expertise in the construction business and the associated risks, which enabled me to think and design this professional transition in a calm and considered way, taking into account the quite changing moods of the Gardon.
Over the last three years, the project has been fine-tuned, and today I'm still working to finalise it, from the decoration (garage sales are a nice place to shop items) to the completion of the last rooms and suites, the natural swimming pool, the landscaped areas and a permanent restaurant in the spirit of bistronomy, with its open kitchen, close to the church.
We will also be opening a tasting and sales cellar (as part of our SCEA (Société Civile d'Exploitation Agricole, French agricultural development company). It will be supervised by David Helou, who is in charge of the restaurant and cellar. We'll also be presenting our selection of wines, but also honey from our beehives, and very soon fruit and vegetables from our garden and orchard, plus our own blends of aromatic herbs.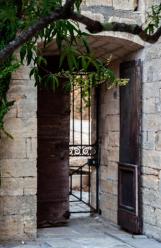 How do you manage this vast priory?
Needless to say, I surround myself with a solid team to manage this sometimes atypical property.The Family House is managed by Anne-Maud Aguilar, who also takes care of the private and professional use of our rental spaces.
Our rooms are situed in the antic cloister. We're a long way from monastic cells, but the charm works and the serenity of the premises spreads throughout the priory. We have two suites, two bedrooms and two family flats and we will soon be adding other accommodation in another part of the priory.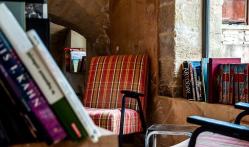 There's also the art gallery which, under the supervision of our artistic director Lora de Montvert, is once again bringing emotion to the heart of the church and crypt. Until 17 September, the 1st Rencontres du Prieuré feature a monumental exhibition of works by French painter Lilian Euzeby, who is visiting as a neighbour, and photographs by Xavier Martin, retracing 50 years of his career within our walls.
On the music front, we were delighted to welcome a piano recital by Pascale Berthelot, followed by a tango voice and guitar concert by Emma Milan and Floriane Charles, and a guitar concert by Philippe Cornier. On 9 September, it will be the turn of the Turkish sisters and artists Ufuk and Bahar Dördüncü (dördüncu, fourth in Turkish) to perform a 4-hand piano concert.
You have given the keys to your short-lived restaurant Locus Solus (unique place, secret place in Latin) to Lyon-based chef Davia Granjon, who is working with Simon Julien and Claire Bossuet. Food bikes, tables set on the terrace reserved with pebbles (open until 14 September 2023 on our terraces, outdoors only)... Can you tell us more?
Yes, Davia Granjon is the master chef behind our Locus Solus (which, after a successful first season, will reopen next summer). She works closely with our executive chef Simon Julien and our chef and pastry chef Claire Bossuet. A winning trio for realizing summer recipes, from the most innovative to the most traditional, accompanied by local vintages, of course, selected by David Henou.
Our kitchen is a kind of laboratory, where we not only create the recipes...
The unique layout of the Prieuré allows us to adapt our offer to demand. Our food bikes (kitchen, ice cream parlour, bar etc.) can move around the property and adapt themselves to the wishes of our customers and the weather... It's an innovative, practical and fun concept! They are available on our beautiful terrace or in the middle of the vegetable garden, a stone's throw from the church or in its nave, for events for example, and can be adapted to suit any need.

Any other artistic projects in the pipeline?
Yes, why not become a theatre stage, giving free rein to one or more troupes from the Gard, France or elsewhere, or even celebrate the 7th art as it should be, with outdoor projections or in the nave of the church? The Prieuré Saint-Nicolas can be used in the plural, so the possibilities are endless.
Thanks to Arnaud Le Bihan for his guided tour of the Priory and his collaboration to this article.
Source: * wikipedia.
The right address: Prieuré Saint-Nicolas, Sainte-Anastasie, Tel: 04 66 63 85 37. Les rencontres du Prieuré: Free admission to exhibitions Tuesday to Thursday, 2pm to 7pm and Fridays and Saturdays, 2pm to 8pm (up to the 17th of September). Restaurant Locus Solus, Wednesday evenings to Saturday evenings from 6.30pm (kitchen open from 7.30pm to 10pm) and Sunday lunchtimes from 12.30pm (single course) until the 14th of September (reopining time in Spring 2024). Rooms booking, Events booking.