French Views, Carole's passion for France
French Views, Carole's passion for France
From Biarritz in the Pays Basque to the château de la Rochepot, in Burgundy, from Giverny in Normandy to the small villages of Luberon, Carole takes us along her own private tour in France.
First of all, what is French Views?
A website with regular new blogposts created by Carole, originally from England, living in Australia, with a particular dedication "for France and all things French".
Apart from enjoying "writing, watercolour painting, cycling and baking", Carole's French Views "shares her travel experiences, mostly of France, to inspire others to travel independently".
Let's talk !
H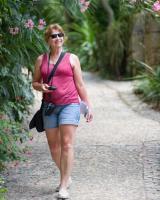 ello Carole,
So nice to meet you over this interview,
Would you like to present yourself to the readers of UzEssentiel?
Bonjour Nancy. Thank you for inviting me to share my French Views story with you.
I was born in England and my first big travel adventure was just prior to turning five years old. My family migrated to Australia, by ship, quite some years ago! Although, I can't remember much of that journey, it did ignite my passion for travel.
I live in the beautiful Blue Mountains, west of Sydney, with my husband, Chris. We are very fortunate to have a lovely family, two children, their spouses and now four gorgeous grandchildren who we adore.
Since when have been entertaining travel lovers with French Views?
French Views began in 2009 after a three-month holiday in Europe, spent mostly in France. I did lots and lots of research for this holiday and we learnt a lot during our travels. I made extensive notes and following that trip the idea of a small travel booklet, which I hoped would be helpful to other travellers, formed. However, on our return to Australia, finding a new job, studying tourism and general family life meant that the booklet idea did not eventuate.
Fast forward to 2015 and a two-month holiday exclusively in France, we gathered more experience and I added this to my previous notes. Again, life was busy, working full time and our family continued to grow.
I started my Instagram account in 2017 and named it 'French Views'. The idea of a booklet was superseded by the idea of a website with regular blogposts and eventually in December 2020 I published my first posts. Chris designed my website logo and edits the photos for the posts.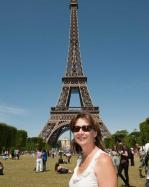 Do you remember your first trip in France? Where was it and was it then that you grew fond of the country?
​​​​​​​Our first trip to France was in December 2004, as part of a European coach trip, organised by Trafalgar Tours. Called "A Glimpse of Europe" ​​​​​​​i​​​​​​​t was a whirlwind 7 days. Paris was the first destination and we arrived in the capital just after Christmas. It was very cold and the hotel was tiny and cramped, located on the 'périphérique', which is not ideal.
However, in a few days visit, we were able to enjoy a trip up to the second level of the Eiffel Tower at night, a day tour of the city plus a trip to Versailles with a local guide. We also had dinner and a show at the Moulin Rouge. All amazing experiences for our very first trip. Here is the link to my story about this trip.
At that stage, I don't remember having a desire to return but then after a few years watching television broadcasts of Le Tour de France with Chris, I was in love with the countryside and mountains of France. Our 2009 trip cemented this, and my French obsession began. We prefer to travel independently and this trip really increased our ability to travel in this style.

What is the region you prefer, and why?
This is a challenging question, Nancy. I love many regions of France for different reasons and we still have not travelled to all of them. However, if I must choose one region then I will say the Pyrénées for its rugged beauty and historical towns. The narrow mountain roads winding along through the clouds as they part to reveal spectacular scenery. You feel like you are on top of the world and sometimes you have the place entirely to yourself. Tiny villages of stone that have been there for centuries is such a contrast to my own country.
Each valley of the Pyrénées is different from the next. We've watched vultures circling and soaring across the bright blue sky, nudged our way past cows lazing in the middle of the road. We've enjoyed cycling along quiet valleys beside a stream and at the other extreme Chris has conquered Col de Peyresourde, Col du Tourmalet and Col d'Aubisque.
We have driven to remote lakes high in the mountains and enjoyed eating paella on the border of France and Spain. One thing we haven't experienced yet is to go to one of the thermal baths for example the historic one in Bagneres de Bigorre.
What is for you the best part of working on French Views? Does your professional career help you to run you blog/website?
Working on new blogposts regularly keeps my connection to France alive during this time when we have not been able to travel there. I love recalling our stories, looking back through photographs plus sharing some tips that I hope others can benefit from. This is particularly aimed at those of us that live so far away from France and to help manage the logistics of independent travel in France, which can be so rewarding to plan and experience.
The best part of having French Views is the connection I have made with other people, around the world, who also love France too.
I have previously worked as a travel agent for a short period but it's my life-long love of researching that has helped me the most. French Views is a lovely escape from my current professional career as a Medical Manager.

Do you have a… best souvenir of France, of a travel or a short trip?
A day on Mont Blanc. We visited the town of Chamonix in summer and took the 2 cable cars to Le Pic du Midi. It was breathtaking. It was incredible ascending so high above the valley and as we sat in the café at the top, we watched a small plane flying along the valley far below us. The scenery is stunning. It was an amazing experience that will live with me forever.

What do you prefer in France, between historical sites, food, nature?
Again, a hard choice but I think it is the nature. The variety of different landscapes across the country is one of the most enticing reasons to visit France. Spectacular mountains, fields of lavender and sunflowers, vineyards, the beaches and rocky coastlines, which vary from Mediterranean to Atlantic. Gorges and valleys. There is so much variety that is mostly accessible within easy driving distances unlike the vast distances in Australia.
Do you want to share an anecdote taking place in France, or referring to France?
We were standing in the checkout queue at the supermarket in Bourg-d'Oisans in the Alps. It was busy with lots of tourists in town for Le Tour de France. In front of us was a tourist visiting from another European country who had not bagged and weighed her fruit purchase (2 nectarines) prior to arriving at the checkout. The checkout lady was trying to explain to the tourist that the customer is required to complete this task and the tourist did not seem to understand French or indeed her intent. The checkout line was at a standstill.
Chris, my husband, understood the problem and explained to the tourist, in English, what she was required to do. The tourist said she didn't have time, her husband was waiting for her. Chris explained this to the checkout lady who then replied, in French, to state that the fruit must be returned. The tourist refused stating "I don't have time". There was a stalemate.
The situation was sorted out by Chris grabbing the fruit and returning it. The checkout lady then completed the purchase for the tourist who went on her way without a thank you to Chris! The checkout lady was clearly very appreciative of Chris' intervention and was utterly lovely for our entire transaction. I should point out that neither mine nor Chris' French language skills would be considered more than beginner but somehow Chris managed to save the day.

​​​​​​​What would be your advice for someone who want to come to France?
I would suggest that they spend time planning out their route. Don't try to see too much in one trip, it is better to spend longer in fewer destinations so that you can really get to know a particular area. France has such a variety of landscapes to explore in an easily manageable trip. I would encourage a driving trip to enjoy the countryside and smaller towns.
Try to pick some self-catering accommodation and shop at the local markets for fresh seasonal produce.
If you just want to visit cities, then I would recommend using the train network. I would encourage everyone to learn some French at least for simple exchanges that will enhance your holiday experience.
Maybe a reading proposition?
I love reading about France both non-fiction and fiction. I have particularly enjoyed the 'Love in Provence' series of books by Canadian author, Patricia Sands as they transport me to Antibes and surrounding areas. There are also two Australian authors who have written historical novels with a French theme, Fiona McIntosh and Natasha Lester.
​​​​​​​I'm always looking out for new suggestions.

​​​​​​​All visuals©Chris Handel
​​​​​​​​​​​​​​Many thanks to Carole for this lovely interview.
Want to contact Carole?
French Views, French Views contact form. Instagram account, Facebook