Maison æterna, 100% Occitan olive oils
Maison æterna, 100% Occitan olive oils
Maison æterna with its 100% Occitan olive oils is a story of a professional retraining.
From a successful career in communications to olive-growing, it was only a matter of time before Sandrine took the leap after a whole host of training courses.
Want to find out more? Head for Salazac with us and the Maison æterna oil mill...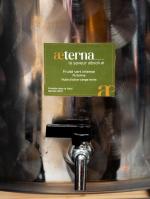 LET'S CHAT
Hello Sandrine,
I'm delighted to welcome you in the Local product section of UzEssentiel.
Can you tell us more about your career change? How did you get the idea of turning to olive growing?
After a busy professional life in the world of communication, I decided to take a drastic turn and concentrate myself on an activity with more human and sustainable values.
I used to marvel at the cultivation of olive trees when I came to the region. To devote myself totally to it and to leave Lyon became an obvious choice at a time when I needed a change in my life. It allowed me to give meaning to my work and create a link with the land. It started out as a mischievous idea for my former colleagues... and for my family.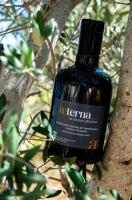 Maison æterna opens in 2020.... How did you choose this name and what were the requirements for launching your business? What training did you have?
Æterna, a reference to the Latin æternum... I liked the idea of recalling the timeless, majestic, resilient side of the olive tree, a tree of incredible robustness and a formidable working partner.
On the apprenticeship side, I trained to run an olive grove at the Lycée d'Enseignement Général et Technologique Agricole Marie Durand in Rodilhan, and then obtained a diploma in oleology from the University of Montpellier (which works with the Association Française Interprofessionnelle France Olive).
I completed my training in olive oils with an immersion course at the Les Callis olive farm in Gordes, where Alexandra Gauquelin-Roché, the owner, qualified oleologist and olive oil producer, joined forces with Cécile Le Galliard and Cécile Cron, 2 other professional oleologists. The three of them created the LHOVE association (L'Huile d'Olive Vierge Extra*), which offers a catalogue of training courses dedicated to olive oil.
To complete the olive oil production cycle, when I was looking for an internship in an oil mill, I got a job as a miller at the Moulin du Verdalet in Bessas (an organic farming), a stone's throw from Barjac. I'm now in my 4th year. It was an essential skill-building exercise, given that I was a neophyte in the field of agriculture and olive growing in particular.
On this subject, I would like to add that the support and encouragement of former local olive oil producers and farmers has been and continues to be the best recognition of my work.
Olive trees growing on warm, living soils, on plots of land farmed in the traditionaland not irrigated...
The olive groves are tended all year round to limit water competition,
preserve biodiversity and limit the direct action of the sun's rays on the soil (Maison æterna).
You've settled into an ideal spot for your olive trees. Lands surrounded by hedges, in limestone or sandy-clay soils with this particular and beautiful red colour...., respecting the cycles of nature". How did you find your place in Montclus?
It was by chance. I started with a plot of 50 trees on a neighbouring plot, and then I met some farmers who wanted to rent out their olive grove. Their trees were added to the first ones. They hadn't seen secateurs or shredders for years, so I threw myself into giving them a new lease of life.
I've also had the good fortune to meet other wonderful people, pruners, millers and other passionate producers who have taught me how to work the land, how to prune, the secrets of the olive... A wealth of knowledge, a love of the land and of hard work, so rewarding.
Today, I have 1,000 trees under my care, enabling me to produce a premium oil from 7 very distinct varieties that I offer as a blend or single variety, depending on the year.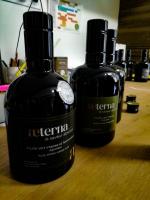 Maison æterna is also a team at work, I suppose. For communication, of course, in partnership with one of your former colleagues and your daughter, but for the rest? Growing, harvesting, the oil mill...
It's true, I was lucky enough to be able to launch my business with the support of former colleagues from my communications agency, now friends, who were won over by my project and helped to create my communications tools.
As for my daughter, she takes care of the designs for the social networks, the labels and so on.
My other two children help me too, one with the farm work and so on, and the youngest with bottling, labelling and preparing boxes for orders. It's a real source of pride to be able to work as a family on such a wonderful project!

Every blend is different. An oil is never repeated, but quality remains paramount.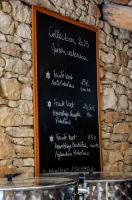 You have three oils, a "Fruité vert intense 100% Picholine, an oil of character, with notes of greenery and fresh almond on the nose and subtle aromas of plum on the palate. Its flavour is powerful, with peppery accents and a pronounced spiciness. The Fruité vert intense Picholine Bouteillan Aglandau has a predominant almond and artichoke character on the palate, characteristic of the olive Aglandau. On the nose, the artichoke notes remain very present, coupled with hints of apple and greenery. And the Fruité vert intense Picholine Rougette Bio, an organic production: on the palate, a lovely intensity of fruit (fruity marked as 7/10) and notes of greenery and green plum. On the nose, the scents of greenery are very present, guaranteeing great freshness". A little presentation?
To create my oils, once the crushing process is complete at the end of December, I leave my different varieties, isolated separately in storage vats, to settle for several weeks. I take samples and test blends according to their aromatic properties and harvest dates...
In this respect, the training provided by the Montpellier olive centre has been very useful, with its lessons on fruitiness, ardour, bitterness, characteristics in the mouth and on the nose. Everything has an impact on the final taste of the olive oil and its conservation.
I then bottle the oil in my oil mill in Salazac, located in the former Café du Midi. A place steeped in history for the people of Salazac. I don't use any intermediaries, which is a conscious choice and a guarantee of quality, of course. I make it a point of honour to be personally involved at every stage in the production of my oils. So I can guarantee 100% traceability of my oils, and I pay close attention to the development of their organoleptic profile, so that they can reveal all the flavour of their birth place".
The Brignoles wine fair? Created in 1921, the association Foire Exposition des Vins du Var
organised a wine competition and exhibition.
In 1963, the fair became the Foire de Brignoles and diversified.
It featured exhibitors promoting gastronomy, outdoor activities and several competitions, including one for sheep.
including one for sheep. Honey, cheese and olive oil are also on show.
In 2018, the fair changed its name to the Brignoles en Provence verte fair
and sees the birth of the Club des Entrepreneurs et des Vignerons de la Foire (Foire de Brignoles.fr).

Your Fruité vert blend of Picholine, Aglandau and Bouteillan won a silver medal at the Brignoles fair in 2023, while the Fruité vert blend of Picholine Rougette was awarded the Médaille Gourmet Argent, a fine accolade... How do you prepare for this kind of competition?
For the time being, I have chosen to take part only in local French competitions, like the one at the Brignoles fair or the AVPA competition, which has been promoting olive oils from around the world and agricultural values for 21 years. These gastronomic and/or agricultural competitions have enabled me to make a name for myself in the Occitania region and throughout France.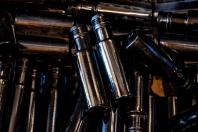 Do you plan to expand your range? Possibly make your olives into jars and tapenades?
Not at all! For the moment, I'm concentrating 100% on my oils.
From the olive grove to the final product, it's a time-consuming A to Z job, but one that's hugely rewarding.
Apart from the delicatessen Les Dandys Dodus in Uzès, where can we find your oils in the region?
At the Marchand de Saveurs in Bagnols-sur-Cèze. On a larger scale, you can also find my oils in Lyon of course, where I've kept my contacts, but also in Lille, Toulouse, Beaune... The other sales outlets are on my website. Find out more...
Many thanks to Sandrine del Piano for her collaboration to this article.
The right address: Maison æterna, contact, shop online. Maison æterna oils can be found at Dandys Dodus d'Uzès 11 Rue Pelisserie in Uzès and in other outlets.