Oliver Bevan, a multi-facetted career
Oliver Bevan, a multi-facetted career
FR - From his hometown Peterborough to Uzes, from London to Saskatoon, Canada, find out more about the many inspirations of British painter Oliver Bevan.

PORTRAIT
Eton to the Royal College of Art
After his college years at Eton, as a volunteer, Oliver Bevan joined an association which offered school leavers the opportunity to travel to the British colonies. From 1959 he spent a year in North Borneo, known today as Sabah, and came back with a maturity that served his painting well. One way of obeying the motto of his old college Floreat Etona, "May Eton flourish"!
Following this rich South East Asian year, back in London Oliver Bevan entered another British institution at the start of the sixties.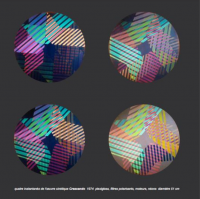 Today, students of more than 70 nationalities attend the Royal College of Art.
Since 2019, the college is the first of its category in teaching art and design.
"From 1960 till 64, I entered an experimental course for undergraduates at the RCA in what was normally a post grad establishment. The five of us were promised an intensive year which proved to be, in fact an intensive six weeks! Fairly academic too as the full-time professors were not into modernism.
The post grad students were however much more adventurous. Relevant guidance was lacking. I floundered around trying different approaches until in January of my last year I attended a lecture on Vasarely. It was a revelation".
January 1964
"As fate would have it, it was my discovery of Vasarely, the father of Op Art, that decided me to quit the world of traditional painting, and explore the wonders of geometric creation, full of imagination, colour and optical illusions.
Even if my graduation show six months later was a fiasco - I showed earlier pieces together with the new geometric art ,and though frowned on by the profs, they were appreciated by the first galleries to exhibit my work, between 1965 and 1971".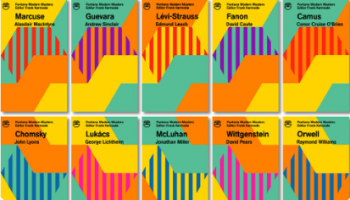 Then came the 70s
From 1972 to 1977, kinetic art dominated the painter's work with kaleidoscopic creations, movement and light combining in forms such as Crescendo or Tunnel. Sometimes he experimented with shapes like tangrams which gave rise to the first collaboration:
the dazzling, geometric covers Oliver designed for the first 10 paperback books of Modern Masters, published by Fontana in the early 70s. This success was rapidly followed by exhibitions in London, Zurich and Toronto.
Editor Frank Kermode wrote about this series :
"By Modern Masters we mean the men who have changed and are changing the life
and thought of our age... Nothing else can offer in such an acceptable
form, an assured grasp of these revolutionary thinkers"...
The 1977 to 1982: Transition
At a moment when the painter needed a change in his life and work, he was offered a post teaching art in Canada. There, close to the United States border, he enjoyed coaching students in painting, drawing and etching at the University of Saskatchewan, in Saskatoon.

The landscapes of the province of Saskatchewan inspired him some vivid sketches and images of Canadian plains, beaten by strong winds. Working with gouache, pastel and collage, the artist transcribed his souvenirs as soon as he came back from his walks.
Returning to London in 1979, he added photography to his repertoire during a 3 year period, whose culmination was the exhibition Collages and Colour Photography at the Angela Flowers Gallery, today one of the oldest established contemporary art galleries in London.
When Oliver placed his easel in his new studio a few steps from the City in 1982, he found a perfect environment for his series The Farrington paintings, which he started while giving his private classes. Urban inspiration, high viewpoints... Have a look at the Turnmill Street: Station Roofs for example. Architecture and civil engineering inspired him until 1988. He moved his studio to South-East London 1985.

Drawing and urban painting
​​​​​​​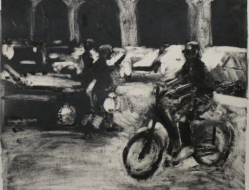 ​​​​​​​In a series of black and white drawings, from 1983 to 1995, he worked with white chalk on black paper allowing him to erase, smudge with a finger or add more chalk. A different approach to drawing and creating volume. This technique is similar to monotype where removing ink from the plate with a rag before passing under the press creates zones of light.
1988 to 1995 there is a change of focus in his work: vehicles and pedestrians dominate, and in 1987 he moved the studio into his home. We talk here about paintings such as Walk, Westway (1987), where the light changes, the shadows move...
From 1991, cars and bikes gradually enter the scene. In all, some 95 vehicles are represented.
And we must not forget to mention the classes that Oliver Bevan taught, from the beginning of the 1980s. Those years sharing his knowledge with passionate adult students instilled in him an enthusiasm for the participants, some of whom went on to become successful professionals.


​​​​​​​Uzes
As a new century began, another life started for the painter. Arriving in France in 2001, he discovered the great natural beauty of the Gard.
​​​​​​​Once again, the urban scenography together with everyday life pervaded all of his new works, diptychs, inspired sometimes byJapanese prints.
Another aspect of his work worth noting: the meals he painted from 2009 onwards: Dinners in a Tuscan villa, summer breakfasts on a terrace, Sunday lunches... He painted many Tuscan subjects including the first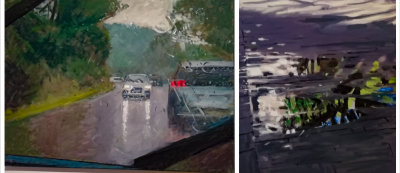 ​​​​​​​rain paintings from Volterra.
There are also the blue and white Cyclades pictures, or those of Cornwall, a wild tormented coast which became familiar to Oliver over the years. There, between 2009 to 2013, the sea with its sandy beaches and rocky cliffs, rivalled to the river Gardon.
Back in Uzes, with the beautiful scenery of the historical Pont du Gard and Collias village, the golden rays of sunlight and the abstract movement of water found their way onto his canvases.
My career is not over, I may return to abstraction, you never know.
I don't know where it is going to go, I follow my instincts (Oliver Bevan, My Modernist Crisis 4/4, Schiller University, 2018)
​​​​​​​Today, the Place aux Herbes is one of his favourite themes, in torrential summer rain, or spring showers, cars reflected in puddles... The magic of reflections, sparkling under the shimmering of car headlights will, who knows, lead to a return to some kind of abstraction?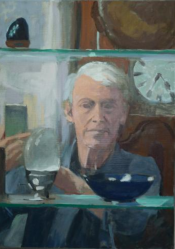 ​​​​​​​What about the lockdown paintings?
In response to the past lockdowns, the paintings we are talking about here are in some ways a journey into the artist's inner self. We can glimpse, thanks to a play of mirrors, the painter's double appearing in a showcase. Is this a self-critical analysis, or just a matter of naturalist observation?
Collectors and exhibits
German, Belgian, Swiss, French collectors and many more have already entered Oliver Bevan's enchanted world, which they may have sometimes met while visiting the Guildhall Art Gallery in London, or his very special Reserve, his own art gallery in Uzes, as we did.
"It was during one of my early London exhibitions in 1973 that I was introduced by a mutual friend to Ringo Starr.
The Beatle just loved my kinetic art and decided to buy one... then two!"
Oliver Bevan's recent major exhibitions
In 2012 Annick Le Mée, who manages his career and La Réserve, organized a retrospective exhibit Un parcours atypique at both the Médiathèque d'Uzès and the Ancien Évêché. Rencontre ensoleillée, in Saint-Quentin-la-Poterie and Ombres portées at La Réserve 2022, where his work is stored right back to the 1960s.
Many thanks to Oliver Bevan for his collaboration with this article, the rereading, the guided visit of La Réserve and the visuals.
The right address: La Réserve d'Oliver Bevan, 1 rue Nicolas Froment, 30700 Uzès. Tél : 06 74 06 00 83.
Watch on youtube the 4 « Lectures - "My Modernist Crises" of Oliver Bevan nº1, nº2, nº3, nº4, Oliver Bevan Conference Retrospective 2012, Crescendo and Tunnel : two kinetic art pieces by Oliver Bevan.