Maison 1643, a French guest house in the countryside, near Laudun-l'Ardoise
Maison 1643, a French guest house in the countryside, near Laudun-l'Ardoise
For the past two years, the hamlet of Ribas, a stone's throw from Laudun-l'Ardoise, has been home to MAISON 1643, a guest house housed in a former silkworm farm.

A former 17th century silkworm farm with its vast garden planted with trees and,
down the slop, a fresh river, in the heart of the Ribas hamlet surrounded by vineyards (Maison 1643.fr)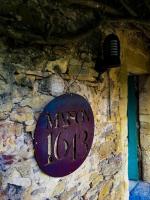 Ideally situated just over 26 kms from Uzès and just 18 kms from the Pont du Gard, MAISON 1643 is proudly enjoying its old age and is coming back to life in the company of Véronique and her husband Frédéric, who decided to settle here after their professional life in Lyon.
The UzEssentiel editorial team had the pleasure to pay them a visit and feel the bucolic atmosphere of the place...
Follow us on this new guided tour!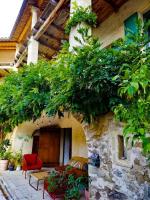 LET'S VISIT
MAISON 1643 is a brand new life for you, in the heart of the hamlet of Ribas... What did you do before concentrating on your guest house?

For my part, I used to be a bookseller and, after that, I ran a delicatessen in Lyon. What do you have in common? Contacts! So running a guest house was a sort of continuation of those occupations.
As for Frédéric, he combines his work as a freelance graphic designer with the management of MAISON 1643. His expertise is ideal for the communication side of our guest house.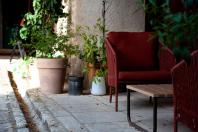 How did you develop your project and what was the catalyst for launching it?

We wanted to make a change from our city life. We have to admit that we have radically changed our lifestyle!
First of all, we thought about opening a restaurant, but the requirements for this type of establishment were too demanding.
So, taking advantage of our confinement, we started prospecting for a new home. After looking at the Provence Alpes Côtes d'Azur region, our choice quickly fell on the Gard, a region with a very pronounced rural charm.
As time went by, the MAISON 1643 project began to take shape, even though we had our doubts when our removal van arrived... But we quickly got into the swing of things and finally made this former silkworm farm and family home our own. We'd found the perfect place.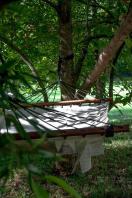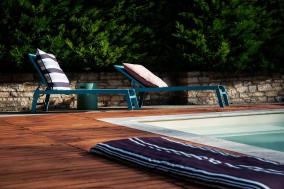 The historic building had to be somehow redesigned to suit its new life. How long did this restructuring take?

To be honest, we're still working on the fittings and decoration, often using local crafts and playing with raw materials (like these paperless walls) but also with the elegance of waxed cement and the rustic feel of burnt beams.
The evergreen garden and the swimming ecopool, just by the river, also have their own cachet.
MAISON 1643 is an everyday adventure. Far from being a sinecure, the work is nevertheless extremely gratifying. And the positive feedback from our visitors confirms our choices.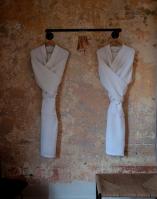 Each of your three bedrooms has its own spirit.
Fusta, with its woodsy style; L'hermine, a reference to Leonardo da Vinci's Lady with an Ermine; and L'étage, with its bohemian feel and exposed beams. Tell us a bit about them!

Fusta, with its touch of wood, has a very cocooning, cosy atmosphere. It's warm and relaxing like no other.
As for L'Hermine, its Italian wallpaper, which we personally created inspired from the famous Lady with an Ermine painting, adds an artistic touch, complemented by the other paintings. L'étage speaks for itself. The room overlooks the courtyard of the silkworm nursery, on the 2nd floor, and its country charm is revealed by its exposed beams.
Table d'hôtes, seasonal bistro...
a cuisine based on quality, seasonal and local produce (Maison 1643.fr)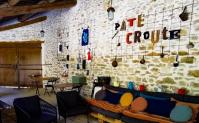 Your guest house also has a table d'hôtes. Can you tell us more about it? What training have you had? You mention, for example, "the inspiration of chefs trained at the Institut Bocuse in Ecully"...?
In fact, we spent around 5 months training separately at the Institut Bocuse in Ecully, near Lyon. It was a rich learning experience, and above all fundamental to our 'bistrot'. And coming from one of France's gastronomic capitals, it was impossible to ignore the quality of our cuisine.
And as we are both gourmets and... gourmets, we wanted to pass on our passion for good food to our guests.

Between the two of you, who is the master chef? Are you both behind the piano, or does each of you have his own speciality?
I take care of the appetizers, starters, side dishes and desserts, while Frédéric is the undisputed chef of the main courses.
The challenge of changing dishes and desserts every day is sometimes difficult, but our training as chefs has given us the keys to succeed!
A generous cuisine, inspired by the Lyon region and the richness of southern cooking,
by turns refined, gourmet, even surprising at times... (Maison 1643.fr)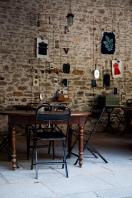 Our favourite signature dishes?
First and foremost, we always focus on seasonal cuisine and local produce, such as olive oil, melon, figs...
Our favourite dishes? Perhaps the new version of pistou soup, pork cheek with port wine, polenta with a hint of coffee or the panna cotta with vine leaves, which, once dried and ground, has a taste reminiscent of coconut...
Many thanks to Véronique, Frédéric and Titus, their border collie, for their warm welcome and collaboration on this article.
The right address: MAISON 1643, 635 chemin de Ribas, Laudun. Tel: 09 75 49 24 43, contact@maison1643.fr. Reservations on the MAISON 1643 website. You can also find MAISON 1643 on Provence Occitane, France voyage and the British holidays website Sawday's.