David Vernede, pure metal art
David Vernede, pure metal art
FR - Native of the Auvergne region, in France, David Vernede has undoubtedly drawn inspirationfrom this rustic and rural territory.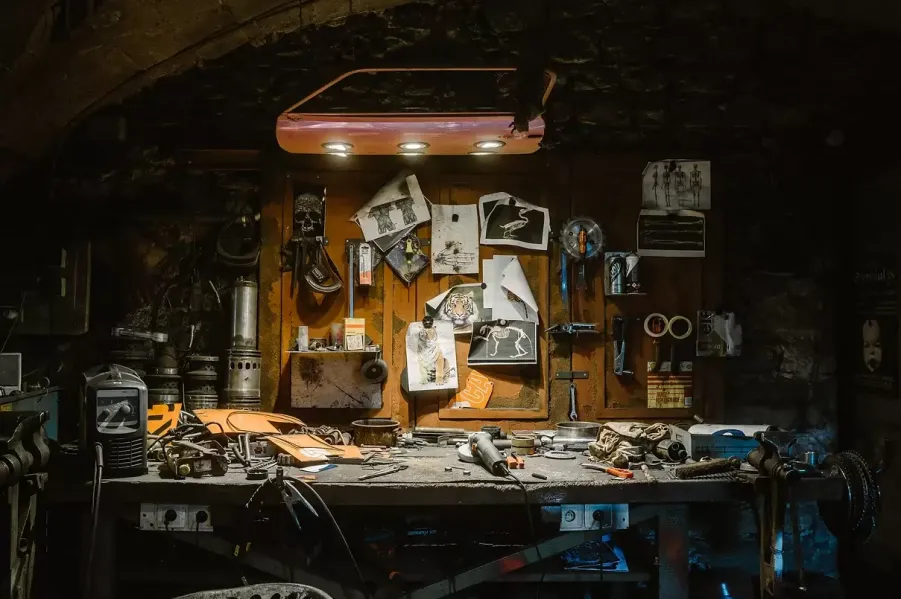 A true specialist in recycled metal, and above all the "mechanical parts and metal of cars", David Vernede sculpts them to obtain his final work, overwhelmingly realistic.
INTERVIEW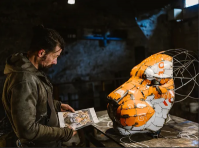 Hello David,
Thank you so much for agreeing to be part of the UzEssentiel portrait gallery.
Can you tell us how your metal art came about? And for how long have you been sculpting?
Hello and thank you for your invitation.
I have been sculpting since 2012 and dedicate myself to it full time and make a living from it in 2015.
Before that, I used to draw a lot. I have always felt the need to create, artistically or not. But it was by chance that I came across metal... while making a staircase for a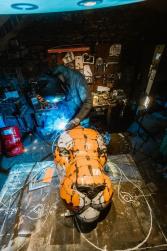 house I was renovating. At the time I was a working in a small factory, as a welder. So I already had the tools I use today. Now I no longer see them as working tools but rather as an extension of my own hands. They can help me to realise in 3D the projects I have in mind, and to bring them to life.

You choose themes that are often wild, like bulls, gorillas, tropical birds, horses, but also historical subjects, like this fantastic centurion helmet in the Galerie urbaine, in Uzès. Where do you find your inspiration?
It's quite difficult to say where the inspiration comes from... I think it's a mix of all the things I have seen, all those little details that I like or that touch me in one way or another, and that are found in my creations.
I make a lot of animals because, like many sculptors before me, I try to copy what I see. Anyone who sees one of my works can compare it with their own idea of the animal.
I want my work to be able to speak to everyone. I'm not one of those people who are trying to send a message ... The abstract or the conceptual is not my field. But I do like the term "wild"!
You work on pieces sometimes monumental. How many have you created so far? Why do you feel the need those unusual sculptures?
You could say that I have made 3 "monumental" works so far.
I would like to point out that it is difficult for me to respect a maximum size, which is sometimes fixed before starting a project, for example in the case of an order...
It is easier to make something big rather than small, contrary to what one might think. It is true that you encounter some additional problems compared to smaller sculptures such transport, handling, the need for a frame strong enough to support the weight.
Once the work is finished and I step back, I can say to myself that 4 metres long is really better than 2 for a rhinoceros! Even if its conception will have required 6 months more....
What are your favourite materials? How do you work with them?
The technique is always more or less the same for my sculptures. My favourite materials are the ones that are used: a concrete iron frame on which sheet metal plates are welded or riveted and where you can find some mechanical parts.
How long does it take to create a sculpture, from the beginning till its exhibition in a gallery?
Leaving aside the monumental sculptures that I create over several stages (taking breaks of several months to enjoy smaller projects), I would say that the making of an average size sculpture takes me between one and one and a half months.
Well, in reality it takes a bit longer, especially as the creative phase never goes as planned! It's not much more complicated than that in the end.
What do you feel with metal that you don't feel with any other materials?
Metal is hard and cold. It is not as pleasant to the touch as wood or stone, but it gives you room for error.
With a simple welding machine and a grinder, and if you are prepared to take the time, it is normally possible to do exactly what you want to do with metal... I admit that this is my vision of creation, and I try to keep this image in mind!
Do you collaborate with other artists? Maybe for an exhibition in art galleries?
No, as I work without a plan and most of the time with just an idea in mind.
When I start a sculpture, I don't know what it will look like when it will be finished. It's not easy to collaborate with another artist when you don't know exactly what the object you're working on will look like.

Concerning art galleries, where can we find your sculptures? Do you take part in art fairs?
My sculptures can be seen at the Galerie Urbaine in Uzès. Otherwise, my works are mainly found in the Auvergne.
I have participated in exhibitions and art fairs but I have slowed down lately... I prefer to devote myself to my work in the studio, even if I am aware that visibility is important. This is something I need to improve on.
Do you ever present your work in art schools or do you organise training courses?
As I didn't go to any art school, I really don't have any contacts there. I'm not really sure I can pass on my knowledge...
My working techniques are the result of many attempts, sometimes daring, sometimes hazardous. They are good for me, but are not universal.
Many thanks to David Vernede, and to Patrick Mahe of the Urban Gallery in Uzès, for their collaboration with this article.
The right address: David Vernede's website, Insta @david.vernede.sculpture. Galerie urbaine, 3 rue Saint-Etienne, in Uzès. Insta @galerieurbaine.
Photo credits: Workshop©Florian Bompan, Tiger©David Vernede, Bull, Skulls©David Vernede, Horse, at the Urban Gallery, Uzès©Nb UzEssentiel, Welding©David Vernede.