On the road with the GARD'LE CAP 4L TROPHY team (part 1)
On the road with the GARD'LE CAP 4L TROPHY team (part 1)
Part 1 of our paper dedicated to the GARD'LE CAP 4L TROPHY solidarity project, whose young drivers team is preparing to take part in the 27th edition of the 4L TROPHY raid, to be held from 15 to 25 February 2024.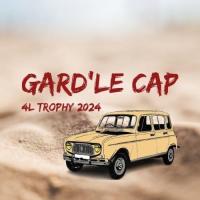 The GARD'LE CAP 4L TROPHY? First and foremost, it's Alexis Monier, the official driver of the 4L and Louanne Reboux, his co-driver.
It's also more than -6,000 km to cover (for crews setting off from Germany or Belgium, at 4,000 km),
-3 countries crossed
and -a dashing 4L named Valente (valiant in Corsica).
RAID 4L TROPHY, the 1st rally open to the 18/28 year-olds.
NEXT EDITION: 15 to 25 February 2024
LET'S MEET
Hello Alexis, Louanne, next February you'll be taking part in the new edition of this solidarity rally for 18/28 year-old, starting in Biarritz.
To start... How did you meet and decide to team up?
Alexis - Louanne and I have known each other since the BTS (2-year higher diploma) in Nature Management and Protection that we took 5 years ago in Saint-Chély-d'Apcher, Lozère. We shared some group work, which helped us to get to know each other better.
We then went our separate ways before really coming together 2 years ago and becoming very close. Louanne came to see me with a friend of ours in January in Clermont-Ferrand. Over a beer, I told her that I'd wanted to do this raid since I was 18, but without success, for lack of time and a team-mate. That's when Louanne said to me "if you want, I'll come with you". And here we are, off on this slightly mad adventure, having drunk, I might add, only the beginning of the pint.
Louanne - We got to know each other by working together during our studies, and we know why we go with each other. We know each other's strengths, but also our weaknesses, and we know how to help each other to overcome them. A real trust has been established between us and we complement each other. Alexis tends to want to move quickly, whereas I tend to think a lot and act less. I think that's why Alexis asked me to accompany him and I accepted. And yes, he confessed. He talked about it knowing that I was going to offer to go with him...
Alexis came up with the name for our association and crew, GARD'LE CAP.
We wanted to evoke the south, our origins, but also the voyage.
We're setting our sights on Morocco, but above all on solidarity and mutual aid! (Louanne)
Could you tell us a bit more about your project, which is based between Uzès and Montpellier?
Alexis - I'm from Montpellier, but I've been away for 6 years studying, so I've been wandering around the centre of France. Louanne, she lives in Uzès and that's where our car is.
The 4L TROPHY is first and foremost an eco-solidarity rally for young people aged 18 to 28, with 1,200 crews in all working with associations selected by the 4L TROPHY organisers.
For us, it's a real experience in the field because we all have to look for funding and manage the mechanics of the car. The aim of the rally is to support Moroccan children (boys and girls) by giving them access to education. To do this, we need to collect a minimum of 2 schoolbags (pens, pencils, bags, sheets, notebooks, coloured pencils, felt-tip pens, etc.) as well as 2 sports bags containing shoes, clothes, a football, a pump, etc.
It's a project that's particularly close to our hearts, because we think it's unfair that in the 21st century not everyone has access to education. The 4L TROPHY also helps the Eco Solidaire association to raise funds and carry out actions in support of ecology. Last year for example, they financed a waste collection truck.
Louanne - Cap Eco Solidaire is on hand to raise participants' awareness of environmental issues. The 4L TROPHY 2023 financed a waste collection truck for the Merzouga region. In 2024, the focus will be on managing water resources. The raid will fund a run-off water collection structure for the village of Lahrouch.
The French Red Cross is also on hand to collect a minimum of 10 kg of non-perishable foodstuffs at the departure village in Biarritz for people in need in France. In 2023, the equivalent of 2,0000 meals were served.
Enfants du Désert is a long-standing partner of the 4L TROPHY. We support them by providing school and sports equipment. We can also donate what remains of our budget. This French association supports local associations with the aim of making education accessible to all. In 10 years of the 4L TROPHY, 26 classes have been created.
The Surfrider Foundation Maroc will also be present during the raid to raise awareness among the crews of the need to recycle waste.
For us, our project is first and foremost a humanitarian one, full of small actions that can make the world a little better. What's more, it's an opportunity to have fun in a 4L on the tracks of the Moroccan desert and to meet new people.
It's worth noting that for the moment we don't have any partner associations from the Gard... Coming soon? We hope so!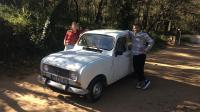 A quick presentation of your car?
Louanne - As soon as we saw the advert for the car that would become Valente, I went to see it with my father. We took it for a test drive and were happy with its condition. That same evening, we put the option on the 4L and, the following weekend, Alexis came down to pick it up. Valente, our faithful steed, is a 1985 4L. For the record, it was one of the last 4Ls produced, the last ones having left the factory in 1992.
With the name Valente we wanted to honour some of our sponsors.
As for GARD'LE CAP, the name of our association and our crew, it was Alexis who came up with it. We wanted to evoke the south, our origins, but also the voyage.
So we're heading for Morocco, solidarity and mutual aid! (Louanne)

Alexis - We bought it for this adventure according to certain criteria: running engine, rust-free chassis...
After dismantling it, we could see that it's a reliable car in good condition. After some work, it will be perfect to accompany us on our adventure. We bought it for this adventure by selecting certain criteria: engine running, chassis not perforated by rust...(to be continued in the second part).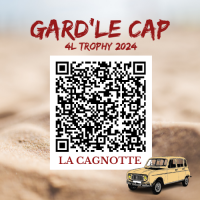 Many thanks to Alexis Monier and Louanne Reboux for their collaboration on this article and for the visuals sent.
To contact the GARD'LECAP 4LTROPHY: gardelecap@gmail.com, FB: Gard'le cap 4LTrophy, @Gardlecap_4lTrophy.
Become a sponsor!
More information about the 4L TROPHY RAID, from 15 to 25 February 2024.