Meeting with Flore Molinaro, multicultural inspiration for design
Meeting with Flore Molinaro, multicultural inspiration for design
From the Duperré School of Design and Arts and Crafts to an internship with master glassmaker Luc Benoît-Brouard, from the discovery of "traditional materials and techniques such as Tadelackt and Zellige, ancestral practices acquired from craftsman Abdella Bougrine" to modern mosaic in the Isara workshop, and then Roman mosaic alongside France Hogué", Flore Molinaro explores art and techniques.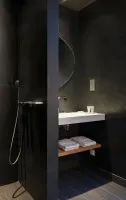 A inspired professional career
A specialist in waxed concrete, which brings a "contemporary, mineral and elegant" aspect to home decoration, Flore Molinaro is also interested in mosaic, for their playfulness and the materials used - tesserae "of glass, for transparency, depth and the play of light, of ceramic, for texture and colour, of stone, for its authentic character".
For Flore, mosaic help create a very personal interior design.
"Materials, colours, patterns, light... A thousand encounters and discoveries are the source of my inspiration and still permeate my creations today"
Wall decorations with graphic effects
Wall decorations, graphic effects, Flore Molinaro uses her many talents to adapt to projects, both for individuals and for public and private organisations, sometimes accompanying them with her sculptures of lights. These new kind of lighting "are a mix of everyday objects unnoticed in the public space, materials and drawings", with "drawn, pierced supports and motifs" sometimes reminiscent of sea urchins or those cactuses nicknamed mother-in-law's cushions. Flore Molinaro's luminous sculptures? A whole world in themselves, a "call to the imagination".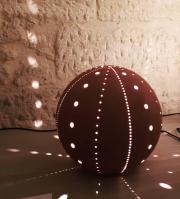 Interview
Hello Flore,
Can you tell us about the path that led you to your current professional career?
Even as a child, I dreamed of drawing and working with colour. I was able to make this dream come true by working alone at first, and then by taking part in a plastic arts workshop.
I persevered in this path by choosing to study "fashion design and textile environment" at the Ecole Supérieure des Arts Appliqués Duperré in Paris.
How do you organise your activity between the follow-up of ongoing projects, more personal creations such as your sculptures...?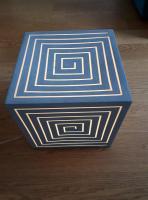 I work on construction sites to create floors, walls and furniture in waxed concrete, and have to travel regularly to Paris and Marseille.
As for my more personal projects, I work at home, in my studio. There I can develop my creativity more, concentrate on an object's decoration, contemplate and be inspired by the natural setting that surrounds me, the one offered by the sumptuous landscapes of the Cévennes. This more creative and sedentary aspect fits perfectly with the work on site.
How have countries like India and Morocco influenced your work over the years?
My travels had indeed a huge impact on my work. When I was twenty, I went to India. This country overwhelmed me, and above all, shaped me. Motifs and colours of India can be found today in all my work.
Morocco, for its part, is one of the countries where I was able to learn and develop my passion for plasterwork and mosaic.
The influence of these two countries on my creations can also be seen in the materials I use: the small mirrors from Jaipur and the pigments from Marrakech are used in several of my lights.
Since when are you present at the Maison des Artisans d'Art in Uzès? Can we see your creations in art galleries ? Do you take part in art airs?
I have been in the Maison des Artisans d'Art d'Uzès for 1 year now. You can also find my work at the Ferronnerie d'Art in Alès. Soon, I hope to be present at APB Concept, also in Alès, which combines architecture and decoration.
For the moment, I have not yet had the opportunity to take part in the various regional fairs. I have only recently arrived in the Cévennes, and covid has slowed down my projects somewhat.
What are your current projects?

At the moment, I am working on a range of more intense colours on decorative pots with rounded shapes and on "totem" lamps.
On the side, I'm trying to develop my network in the Gard. This will undoubtedly offer many opportunities to evolve in the profession, and other challenges in the context of new sites.
This will allow me to reconcile the many qualities of waxed concrete with interior decoration where the decorative arts will create a unique atmosphere.
Thanks to Flore Molinaro for her collaboration on this article
More information on the Flore Molinaro website