Have a stroll inTharaux
Have a stroll inTharaux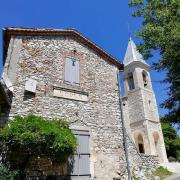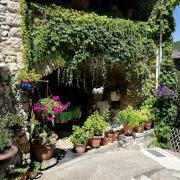 At some 30 kilometres from Uzès, the little village of Tharaux is overlooking the valley of the Cèze.
If you decide to visit it, you will have to make some effort as Tharaux is a "village perché", which means a perched village. As only Tharaux residents are allowed to drive up and park there, you will have to leave your car in one of the 3 parking lots : one all the way down, an another somewhere halfway up and the last one, a very small one, at about 5 mn from the centre city, meaning the church square.
A tangle of tiny streets give the opportunity to discover Tharaux, and have a sight at the nearby leafy and green surroundings.
Going down to the river
Walking through Tharaux, you get to the chemin de la Lône, the path leading to the river, on the other side of the village. 10 mn is enough to reach the peaceful shore, going through bamboos, reeds, and the thick foliage of the undergrowth.
A fairy walk...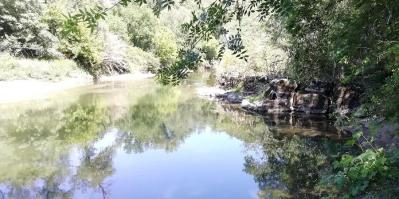 With a bit of luck, you will be able to come near the Fairies cave, which has been studied by archeologic diggings in the early 20e century and in the '80, and the Moon hole.
On the heights of the cliff, connected to the Fairies cave, there is, at some distance, the opening of the Aven Grégoire, a sinkhole 2 600 m long. Explored by speleologists and professional divers (such as the Société cévénole de spéléologie et de préhistoire and divers from PlongéeSout – Studies and explorations of underground networks).
Good to know : Near Tharaux is the rest of a Roman road, la route des Helviens, linking Nîmes to Alba Helvorium (Alba-la-Romaine today). More information on the Tharaux townhall website.
Summer in Tharaux will be cultural : Celtic concert, place de l'Eglise, Saturday 24th of July, from 21h to 23h. Literary and oenological evening, Saturday 7th of August, from 18h to 22h. More information on the Tharaux townhall website.