Quentin Le Cléac'h, distiller in Saint-Quentin-la-Poterie
Quentin Le Cléac'h, distiller in Saint-Quentin-la-Poterie
FR - The distillery of Quentin Le Cléac'h in Saint-Quentin-la-Poterie is a fascinating place.
From research to training in alcohol distillation near Cognac and essential oils in Nyons, Quentin also learns all the tricks of the trade from the distiller Matthieu Frécon, assisted by his famous book L'alambic - L'art de la distillation - Alcools, Parfums, Médecines.
First taking over a distillery in 2013 in Autignac, near Faugères (Hérault), with a partner trained by Luc Boechat, distiller in Saint-Ambroix, Quentin has the chance to succeed Matthieu Frécon in 2014.
After sharing the stills and the stock of alcohol with his ex-partner, Quentin chose to set up in Saint-Quentin-la-Poterie in 2017, to launch his own business.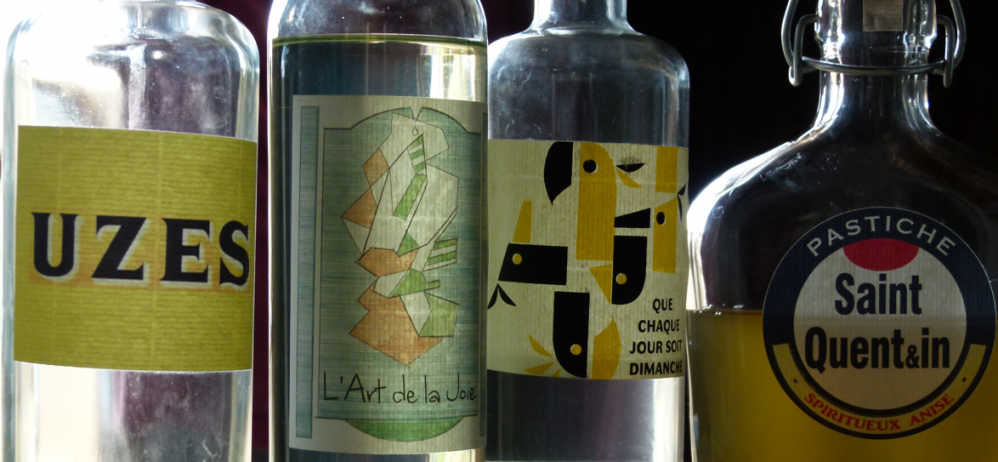 Specialising in the manufacture of spirits, Quentin's micro-distillery is one of 35 artisanal distilleries spread throughout France and joined the young association Alambic, Syndicat des distillateurs indépendants, and its order book is full.
Did you know? A distiller mainly makes eaux-de-vie
An itinerant distiller is the distiller who owns the still, the distiller is his client, farmer, winegrower, fruit harvester, who has the alcohol made for his own consumption
Creation and production
Quentin comments that "the production starts with the fermentation, the action of yeasts that transform the sugars, present in the fruits, into alcohol (we obtain wine with grapes, cider with apples...), a step that I delegate to another professional, I only work with juices already fermented".
With the unconditional help of his century-old still, Quentin focuses on distillation, which allows the alcohol to be concentrated. "After a first distillation of wine, we arrive at 30/35º. It's during the second distillation that we go up to 70º," explains Quentin. "We then have to remove the first alcohols (known as the head alcohols), because they are toxic and have a characteristic smell of nail varnish (these alcohols are over 80º).
We then keep what we call "the heart" - around 70 º, then we stop distillation at less than 60%, because the alcohol becomes greasy and disgusting (these are the so-called tail spirits).
The quality aspect of my work comes from the fact that I don't look at the actual degrees and I always trust my taste and smell.
In the end, the result is an alcohol with a very particular taste, a spirit without a heady aroma, at around 40º (18º for UZES), ready for tasting.
With a natural base of wine without sulphites or chemicals (which will not end up in the alcohol), the wine spirit ages in oak barrels (previously used for maturing cognac) for 2 to 6 years before bottling".
For an order of a new gin recipe, Quentin uses a small still for testing (2 or 3 in total)
Quentin's brands: tasting session!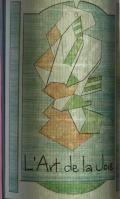 Pastiche Saint-Qent&in (45 º), where the maceration of aniseed and garrigue plants gives an organic wine brandy: badian, green anise, liquorice but also, picked here and there, fennel, lemon balm, wormwood, thyme, oregano, helichrysum, hyssop... Without the anethol (also called anise oil) that clouds the well-known Provençal aniseed drink, the Pastiche Saint-Quent&in keeps its beautiful sunny colour, clear and sits own southern accents. To be enjoyed with or without water.
Art de la Joie (40 º - art of joy): Where verbena and pine needles in wine brandy play with the palate. A sugar-free spirit, to be enjoyed well chilled, Art de la Joie comes in a beautiful long, slender bottle. The pastel-coloured label? We owe it to Monsieur Le Cléac'h père, painter. Art de la Joie? A name that evokes the posthumous book by the Italian novelist, actress and drama teacher Goliard Sapienza.
Camarade Soleil (43 º - Sun friend), on the other hand, is a wine brandy made using the solera method and aged in oak barrels, like cognac. Its amber colour is reminiscent of summer evenings and its bottle one of a good scotch. Quentin, a poet at heart, recalled the verses of Prévert's Temps perdu for this Camarade Soleil together, who knows, with that other extract "the sun all red and round smiling in its sky" recalling the golden colour of this alcohol.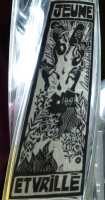 Que chaque jour soit dimanche (Let every day be Sunday): A brandy made from grape marc from the Gard, and more precisely from Saint-Quentin, with the collaboration of the winegrower Valentin Vallès, for a 43º alcohol that spends a good year resting before being bottled. The label, very Art Deco with its birds fluttering between yellow and black, highlights the clear alcohol of this unique Sunday.
Jeune et vrillé (Young and twisted): Could Jeune et vrillé be a gin? Not quite, rather a gin revisited, as its name refers to both the spirit and its pretty twisted and so original bottle. Its "Gardoise" notes and the spirit of wine brandy as a base offer the juniper characteristic of this drink (43 º) the opportunity to unite for the best with the aromatic notes diffused by thyme and rosemary.
UZES: In its slender bottle, UZES is revealed behind a bright yellow and deep black label. Wine brandy and small centaury in particular, but where all the plants prove their usefulness, a perfect and light agreement (18 º only) where the subtle touch of sugar "compensates for the bitterness" which was expected for a while... For this delicate and refined drink, Quentin specifies that the medieval Garden of Uzès was put to contribution. A collaboration that will certainly lead to future projects.
In the pipeline? A refreshing lemon/ginger flavoured gin for winegrower clients
and now ready Clementincello, where the citrus touch of clementines is combined with aromatic plants (thyme, timut pepper, Jamaican pepper) and cane sugar.
A drink at 18 º, just bottled... Notice to fans!

What about the Gervovie ? Commissioned by the Etienne Brewery in Saint-Gervais and created with the master brewers, the Gervovie (43 º) is another addition to Quentin's work. A beer brandy, better drunk consumed chilled, so to be tried in summer! Gervovie is one of the orders Quentin receives from clients, such as Domaine de l'Oratoire in Valliguières, Ferme du Cade in Saint-Laurent-de-Carnols or Ad Vinum in Vallabrix.
Exporting internationally, Quentin trades successfully with Japan, Belgium, England, not to mention Sweden, Quebec, Slovenia and Reunion.d
Don't worry, you don't have to go that far to enjoy these spirits. You will find a good selection at the restaurants Villa Curti and Les insolents in Uzès, Volver in Serviers, Pebre d'Aï in Saint-Quentin, but also at La tête d'ail in Saint-Hilaire d'Ozilan or at the Auberge gardoise in Vallérargues... among other addresses.
Good to know: You can also find Quentin Le Cléac'h at Tonnerre de bio and at L'envie, artisanal ice-cream maker, as well as Au caveau de La Mère Minard, in Saint-Quentin.
The right address: 9 chemin de la carriérasse, Saint-Quentin-la-Poterie, instagram @quentinbouilleur.