Gérard Bellaïche, a fascinating way to sculpt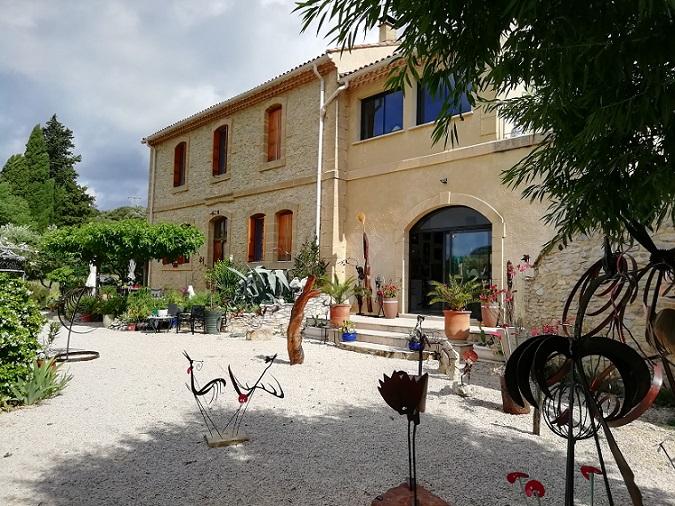 Gérard Bellaïche, a fascinating way to sculpt
FR - Welcomed by Lynda and Gérard Bellaïche, UzEssentiel has discovered the creations of a very inspired artist.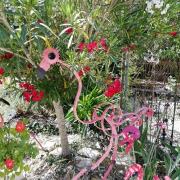 An extraordinary garden as hall of exhibition
Since their moving to the Gard around 2005, Lynda and Gérard live in the old primary school in Bourdiguet, a few minutes from Aigaliers and about 20 minutes from Uzès.
In the garden facing the main entrance of the house, many sculptures have settled down under and on trees, behind leaves, on the steps and the stairs… where they live in complete freedom.
« In an English country garden »
As in the song of Jimmie Rodgers, we stroll in an English type country garden where art meets nature : there are plenty of birds, like this flamboyant pink flamingo, fish playing in an imaginary river, 1 or 2 bike chain snakes coiling up a trunk, and nearby this light and airy wine barrel hoop mobile…
Metal poppies titillate geraniums, a stony cat is waiting by the house door, a proud bull mulls over next to a wall… You find all this in the garden of Lynda and Gérard.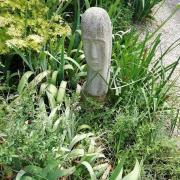 An artist trained with masters
A student for more than 20 years of the Dutch priest, sculptor and engraver Pierre de Grauw, who was strongly inspired by biblical themes, Gérard Bellaïche learned from the best. Another was the French graphic designer Marie-Pascale Deluen, who finds her inspiration in the vegetal world.
With this upper class training, Gérard Bellaïche found his own style, his own signature, in a true, enthusiastic, even audacious fervour.
The lands of the Gard spur the talent of the sculptor, who mixes his personal culture - between Tunisia and France, and the ones encountered when travelling around Africa, India…
While enjoying his many sculptures, we come to question ourselves about art, and travel within the imagination and the everyday life of the artist, since his reorientation at the end of his first professional life.
A well established artist
A well known artist by now, Gérard Bellaïche loves to share his experience, especially with youngsters, an audience who appreciates his fun way of presenting art and transmitting his passion.
With his wife as a personal assistant, taking care of organization and public relations, Gérard divides his time, while not travelling far away, between France, and England – mother country of Lynda.
There, he participates in the artistic life, well steeped in the English way of creating (remember Lynda and Gérard's English type countryside garden, mixing nature and sculptures with success), combining nonsense with British humour.
As in his cooperation with the widow of director Stanley Kubrick, painter and musician. Working with her permitted Gérard to understand a new way of creating art to exist in a natural environment.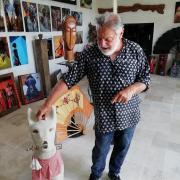 Being part of artistic associations
Founder and president of the Art Mature association which regroups sculptors from the town of Bagneux, in France, and proposes art lessons, member of Courand'Art, in the town of Meudon, near Paris, close to where he still keeps a workshop, Gérard Bellaïche participates in Uzès and around in many other artistic manifestations.
Metalmorphosis…
Fond of Recup'art and Recycl'art, Gérard links the past to the present recycling old material to create brand new sculptures which often maintain a heritage.
When you finally enter the gallery, you wander between the creations inspired by nature, history and stories from African Primitive art…
Gaugin's influence is not very far either, as in this wooden sculpture, or Modigliani's in these long-limbed and poignant figures. Here is Japan, with its incredible and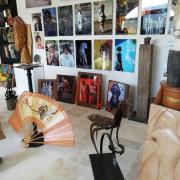 philosophical majesty and serenity. Feel the whisper of Gérard's geisha, the strength of his samurai and meet the eyes of the fox deity Inari.
Another way of creating art : Portraits
What to say about the portraits looking you straight in the eye ? Well, they are intense.
Following closely the work of the French anthropologists and ethnologists Levi-Strauss and Jean Rouch, Gérard and his wife go trekking around Africa and India, the lands they prefer, but also Cambodia or Pakistan, to print the perfect moment showing fragility, the right glance, on film. All the walls of the inside gallery are decorated with those clichés.
Want to learn more, visit Gérard Bellaïche's website, Metalmorphosis. Then program a visit to his gallery, in Bourdiguet.
The right direction : Gérard Bellaïche's gallery (the old village school), 6 rue de l'école, Bourdiguet, 30700 Aigaliers. Call to arrange a visit : 04 66 57 26 41.