UzEssentiel coffee recipes
UzEssentiel coffee recipes
Here are some coffee based recipes to enjoy in good company during winter time.
Follow the steps and have a very comfy winter season with UzEssentiel !

Maud Simonelli, from Equilibre et Vous in Uzes, offers nutritional advice as well as help in rebalancing your diet. She is a pro too in reflexology. But that's not all!
On her Instagram page, Maud shares various healthy and delicious recipes to enjoy on your family time, such as those she selected for the UzEssentiel coffee file, where she invites us to enjoy coffee in a quite different way, but always with a savoury and a sweet recipe.
Put your aprons on!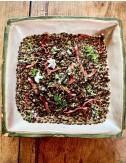 Beluga lentils with coffeeBeluga lentils with coffee
Ingredients: 200 g of beluga lentils, 2 knobs of butter, 1 sprig of thyme, 1 pot of fresh cream, 3 cups of espresso coffee.
Preparation:
In a pan of simmering water, cook the lentils al dente for about 20 minutes, salt them halfway through cooking (as for all legumes), then drain them well.
Brown the lentils with some butter together with the thyme. Add fresh cream, coffee, a pinch of salt and some pepper from the mill. Leave to simmer over a low heat.
When the lentils have absorbed the cream and coffee, adjust the seasoning with salt and pepper if necessary, and add a knob of butter to bind the mixture.
Serve immediately.

Apple and coffee compoteApple and coffee compote
Ingredients: 1.5 kg peeled and cored apples, 50 g brown sugar 1 espresso (equivalent to 10 cl strong coffee).
Preparation:
Peel and core the apples. Cut them into pieces. Put them in a large pot over low heat with the brown sugar and mix well. Stir regularly until the sugar is completely melted and the apple pieces are shiny. Add the coffee and mix well.
Leave to simmer over a low heat, stirring regularly, until the pieces have melted.
Tip: I let my apples stew for 1 hour, so that the compote is well melted with a few pieces.
Fill the jars with compote to the brim, close them tightly and keep them in a cool place.

Pascale Fuchs welcomes her guests to her Magnanerie in Dions, where she shares her philosophy of "simply take your time": walks to free your mind while in contact with nature, yoga and Nordic walking, etc.
Below she shares her recipe for Pascalina's coffee tiramisu, a tiramisu recipe reworked for the pleasure of gourmets.
"If you look on the web or in your recipe books you will no doubt find a thousand and one recipes and variations of the classic, original or traditional coffee tiramisu. I have been researching and experimenting to come up with a homemade recipe that not only tastes and feels right, but is also stable.
I have given up using egg whites that are too unstable and sensitive to temperature shocks in favour of a smooth, light homemade whipped cream made from a top quality 35% fat liquid cream.
I'll let you in on my secret, and I hope you'll like my recipe".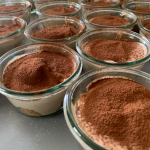 Pascalina's coffee tiramisu
Serving 6
Ingredients: 18 sponge biscuits, 3 eggs, 120g sugar, 250g mascarpone, 250g liquid cream, 150ml strong coffee, bitter chocolate powder
Preparation:
Fill your verrines with coffee-soaked sponge biscuits.
Beat the whole eggs and sugar into a mousse. You can add vanilla or marsala.
Gently fold in the mascarpone.
Whip the cream to a whipped cream and mix with the mascarpone cream.
Garnish the verrines with the cream.
Sprinkle with dark chocolate to decorate.
Leave in the fridge for at least 24 hours.

Ninette (Les recettes de Ninette blog) shares her recipes for different opera and bowlcakes.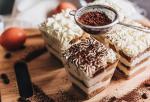 Praline opera (Microwave recipe)
Ingredients: Praline mousseline buttercream: 25 g flour, 25 g maïzéna (corn flour), 50 g sugar, 180 g praline paste, 3 egg yolks (freeze the whites), 350 ml milk, 150 g butter (2 x 75 g), 1 sheet of gelatine
Joconde biscuit: 100 g almond powder, 100 g icing sugar, 3 whole eggs + 3 whites, 20 g butter, 15 g sugar, 30 g flour
Syrup: 10 cl water, 25 g caster sugar, 80 ml coffee
Chocolate praline icing: 75 g dark chocolate, 30 g praline paste, 45 g butter, 1 tbsp water

Preparation of the buttercream mousseline
Take 75 g of butter out of the fridge, cut it into cubes and let it soften a little.
Put the flour, cornflour, sugar and yolks in a microwave-safe bowl and beat with a hand whisk.
Add the praline paste and then, little by little, the milk, mixing well.
Heat several times in the microwave until the cream is thick, taking care to whisk each time.
Add the softened and wrung-out gelatine. Mix then add the 75 g of butter and mix with an electric whisk. Cover with cling film directly over the cream and leave to cool in the fridge.
Meanwhile, make the joconde biscuit.
When the cream is cold, add the remaining 75 g of softened butter and beat with an electric whisk until the butter is well diluted.

Preparation of the joconde biscuit :
Preheat the oven to 200 °C (gas mark 6/7).

In a mixer, beat the whole eggs with the almond powder and icing sugar to obtain a fluffy paste. Melt the butter, cool it and add it to the batter.
In another bowl, beat the 3 egg whites with the caster sugar until stiff, then fold the meringue into the batter and gently fold in the flour.
Using a spatula, roll out the pastry thinly on a baking tray lined with baking paper and bake for 8-10 minutes (the pastry should be blonde in colour).

Prepare the syrup:
Boil together the sugar, water and coffee.
Cut out 3 equal rectangles or squares from the pastry to fit the size of the mould. Place the first piece of pastry on top and brush it with syrup.
Stir the buttercream to soften it a little, then put it in a piping bag. Place some of the cream on the biscuit, spreading it out well. Place the second biscuit on top, soak it and then cover it with the cream. Place the last biscuit on top, soak it and then put it in the fridge for at least 2 hours.

For the icing:
Cut the chocolate into small pieces and place in a large bowl with the praline paste and water. Place the bowl in the microwave and melt gently on low. Stir, add the finely diced butter and stir again until you have a nice shiny cream.

Turn out the Opera by running a knife around the inside of the tin.
Pour the chocolate praline icing evenly over the top and around the edge of the cake (before this, if the icing has started to harden. Feel free to microwave for a few seconds. Help yourself with a spatula.
Set aside in the fridge for at least 2 hours before serving.
Coffee and chocolate bowlcake (Microwave recipe)
Here's a little bowl cake quite different.

Serving 3

Ingredients: 60g raw fine semolina, 2 tsp instant coffee, 2 tsp sweetener of your choice, 90g egg whites (3 approx), 1 plain yoghurt, 2g baking powder, 3 squares dark chocolate.
Preparation:
In a large bowl, put the ingredients in the order listed (except the chocolate), mixing each time. Separate into 3.
Bake each bowlcake for 1.5 to 2 minutes in the microwave. Baking is complete when the cake comes away from the edge and the centre is finally firm.
Turn out of the mould and place the dark chocolate square in the centre on top of the still warm bowlcake.
UzEssentiel coffee toddy
Pour a small glass of cognac/ron/whisky into a hot mug, add a cup of hot coffee, 3 or 4 sugar cubes and a twist of lemon. For a successful show... Flambé... your toddy is ready!