Eric Ribot, an image hunter in the Gard
Eric Ribot, an image hunter in the Gard
FR - Eric Ribot has always been an avid photographer and, through his pictures, he transmits his vision of the world and of everyday life.
"To photograph is to put the head, the eye and the heart on the same line of sight" (Henri Cartier-Bresson)
Loving the art of portraits, Eric does not hesitate to take on challenges, like his latest series of photographs devoted to reflections. Views of the Gardon immortalized and transcended in a surprising way. Everyone will recognise a bear, a deer, a totem, a cat...
Hello Eric,
At the beginning an amateur photographer, you are now a recognized one. What was the trigger for this professionalization of a passion?
Well it came very slowly while I started working with small cameras. Then I discovered the photo development at a family friend's house, where the details appeared little by little thanks to the developer. This made me enter the world of photography head on. I was won over and ready to continue taking pictures, learning how to develop my own images.
Later, I even became a member of the French Federation of Photography in Nîmes.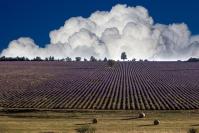 Being an artist photographer is a world on its own. Can you tell us about yours?
My world is the image. The camera is a faithful and indispensable companion for me. I have also discovered that not everyone likes to photograph.
I like to share my vision of everyday life through my photos, for example when I go to meet craftsmen or other artists to communicate their passion.
I started to exhibit with the Federation, in Martigues in particular. At that time, photography was not really know, there were no tv shows or anything else devoted to it, and very few magazines. The shift to digital photography has truly democratised the practice, even if film still retains and will always retain a certain charm. Digital technology offers possibilities that were unimaginable in the old days of film and has liberalised photography in a way.
However, it must be acknowledged that the techniques are different between film and digital... and, even if they are complementary, they are sometimes difficult to master.
"In my opinion, you cannot say that you have seen something thoroughly if you have not taken a photograph of it" Emile Zola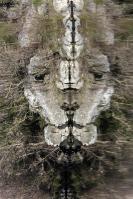 The local landscapes are in a way your daily inspiration. But we also find series about modern and urban art. What moves you the most? You bring also a particular attention to detail, which will make this photo THE photo. How do you go about it?
"Style" is a difficult question... For me, a photo speaks for itself. There is no need to retouch it too much.
When you work on a "series", you devote yourself to it completely, as it was the case for the one on the reflections of the Gardon, which caught the attention of an editor from OPEN EYE magazine. In the end, this editor's advice was to let inspiration take over, to let myself be carried along by the flow of creation and what I like, to avoid "working" too much, to intervene on a subject, in order to allow the image to express itself.
I have learned to work on my ideas on a daily basis, even without a camera in hand. Light and water inspire me. Black and white in film, colour in digital.
It was a long journey and I let the photo take over my will. In short, it has become independent.
I always have a lot of themes going on, I pursue several ideas at once and choose one over another depending on the situation or the upcoming exhibition.
"The photo is often the written result of an encounter, a light, a furtive moment, an ephemeral moment" Eric Ribot
You sometimes put yourself on stage. What do you find in this more personal approach?
Self-portraits are a form of self-therapy, a way of looking after one's image.
This series of self-portraits won me the Prix Auteur de la Fédération, a regional prize, as well as a prize in the Tarascon and Beaucaire photo competition, which gave me the possibility of exhibiting in Arles and reaching a wider public too.
"A photographer is a tightrope walker on the edge of chance who tries to catch shooting stars" Guy le Querrec
Your participation in photographic exhibitions is always noticed. You have been awarded several prizes, as was the case at the last Pont-Saint-Esprit photo exhibition where you exhibited with other artists, or at the 41st edition of the Photo magazine competition. How do you manage these participations?
The series of reflections of the Gardon river When water becomes a mirror "Illusions of souls" was indeed part of the last photo exhibition in Pont-Saint-Esprit and won the first prize. These pictures were then presented in Vedène.
Eric Ribot, Winner - Canon Award - Premium Class Category (February 2023)
GRAND PRIX PHOTO DE SAINT-TROPEZ - Created in 2013, the Grand Prix Photo aims to raise funds for a humanitarian cause, to promote the talents of amateur or professional photographers from all over the world and to create a cultural event, around photography, in Saint-Tropez (Grand Prix Photo.org).
I look for photo competitions mostly on the Internet or in the press. I classify them by participation deadline and then work on the photos that I will present in my exhibition project. In all, I take part in about ten photo competitions a year. My participation in the Saint-Tropez photo exhibition, recently organised for the benefit of children with heart disease (the profits from the photos sold being donated to the association (see above), earned me the Grand Prix Photo.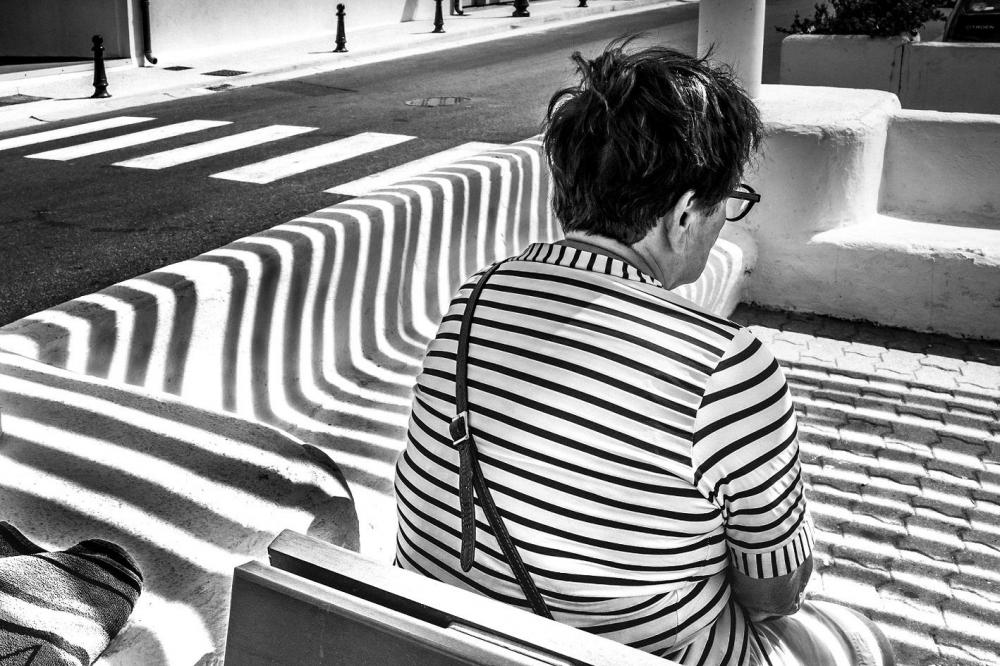 I am currently preparing a new exhibition which will be called "Pêche à la ligne" (Line fishing), a title that fits perfectly with this series composed of photos where the graphic stands clearly out, with straight lines playing on black and white contrasts.
Another exhibition will focus on "Les retours de plage" (Back for the beach), with photos taken past summers in Collias, featuring holidaymakers returning from the banks of the Gardon, in Collias. The aim was to be in full contact with passers-by with my old silver Rolleiflex, which helped me to be more convincing in my approach.
Some of my portraits or series are coming back into fashion. So I always keep my work carefully referenced for when it is called upon again.
Currently, I am selecting several photos to be included in a travelling photo exhibition between France, Switzerland and Germany in 2024.

Thanks to Eric Ribot for his collaboration on this article.
You can find on the photographer's website his photo book, Illusions d'âmes.