The Jamin Gallery, in Uzès
The Jamin Gallery, in Uzès
FR - Named after its founder, David Jamin, the gallery - and workshop Jamin is located, since 2013, in a historic house with centuries-old vaults in the centre of Uzès, rue Saint-Théodorit, a privileged setting for his shimmering colours paintings, with frank and dynamic brushstrokes.
Portraits - faces with closed eyes, pensive, or other, romantic, like Rimbaud, Nicolas de Staël, the series of sailors, declined in several versions, from the most classic to the most marginal etc, here is an idea of the world of David Jamin.
There are also tributes to the Camargue race (Raseteur et Cocardier), the embracing couples (Blottis or Entre nous), some birds (like the dapper Mésanges) or flowers (Prairie)...
You can have a glimpse of the universe of David, an inventive and inspired creator through his paintings with their vibrant energy : a freshness all in petulance and innovative joy.
Interview
Hello, and delighted to meet you for this new UzEssentiel portrait,
Your gallery has become a reference in Uzès. Can you tell us about the genesis of its opening ?
When my wife Séverine and I moved to rue Saint Théodorit in 2013, it was at the time the ground floor of our house that we had allocated to our professional use.
Séverine's office window being opened to the street during that first summer in Uzès, passers-by often stopped to ask her about the paintings, beside her. Séverine used to give them the contact details of the galleries we work with and the address of our website... But soon, we thought that it would be more convivial to welcome our visitors directly in a gallery dedicated to my work.
So, as the building was restored, we finally decided to create a real exhibition space.
What was your background before you moved to Uzès ?
Drawing and painting had always a great place in my life since I was young. I was born in Nîmes but left the Gard at a very young age for the Côte d'Opale where my father had been transferred.
I started to exhibit locally in the years 1996-2000 while having another professional activity. The proximity of England meant that British gallery owners were the first professionals to notice my work and to exhibit it, not only in their own galleries, but as well at prestigious contemporary art fairs.
Very quickly, French gallery owners followed and their support allowed me, after some years, to make a living out of it. And as my dream had always been to return one day to my native region, the fact that I no longer had any other professional activity at the same time allowed me total mobility, hence the installation of my family in Uzès in 2013.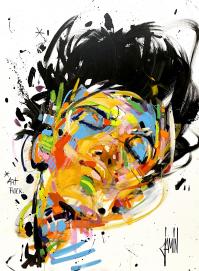 You paint in acrylic. Does this material give you more latitude to create ?
I work in a lively way, with a quick gesture... I really need a great deal of freedom in my technique and acrylics, with their short drying time, allow me this spontaneity.
We find yellow, blue and red in your paintings. Are these colours predominant to your art, a kind of signature of some sorts ? What would be your ideal palette?
Like my daughter Lola, whose first works can be seen in the gallery, I started with dry techniques : charcoal, graphite, red chalk... I didn't use many colours at the beginning.
The transition from dry techniques to oil and then acrylic did not change my palette immediately. Naturally, the first touches that appeared were ochre, red, and this little touch of blue. They followed me for a long time until the revolution in my palette was somehow triggered by my installation in Uzès : inevitably green appeared, and even oranges, purple, pink... My ideal palette suddenly became the one that would best render the light that seduces us all when we arrive in Uzès !
Are they part of a particular period ? If so, what were your other periods, and the theme you may have chosen for 2022?
Each year is unique and when you look at previous periods, they are inevitably influenced by the light of the moment.
The seasons, the passing days and simply life mark each of my paintings.
2022 is going to be a little different. In addition to letting my inspiration freely colour my paintings, I currently have a well-defined project around an expected theme for an event that will take place in Switzerland at the end of the year. More than 30 paintings will make up this international event around a single subject that I will be able to reveal during April 2022...
You mainly paint portraits, like the Sailors series, why this preference? And why do they often have their eyes closed, a way for you to give free rein to the imagination of collectors?
Introportrait is indeed a word that I created from introspection and self-portrait. So it's not a self-portrait or a representation of someone in particular, but the creation of a face that could capture all of our emotions, our feelings. The closed eyes favour this idea of introspection.
And indeed, I like to leave each of my paintings open to interpretation by the viewer.
Apart from your gallery, do you participate in exhibitions in France and abroad? What are your plans for exhibitions or openings in 2022?
I work with about twenty galleries. They present my work in France and abroad - South Korea, the United States and England for the main ones.
In 2022, an exhibition is currently taking place in Valence (26), at the Galerie Bost. Numerous other exhibitions are planned : in Paris, Toulouse, Nantes, Reims, Lyon, in Luxembourg, Belgium, Monaco... and in December a solo exhibition in Grenoble (Galerie Vent des Cimes) and the above-mentioned flagship event in Switzerland.
Thanks to Séverine and David Jamin for their collaboration to this article, and for the visuals transmitted.
The right address : Atelier-Galerie Jamin, 9 rue Saint Théodorit, in Uzès. Open every day, except Thursday, from 3pm to 7pm, or by appointment.