Sandrine Skiller, on the road to a murder party
Sandrine Skiller, on the road to a murder party
Our meeting with Sandrine Skiller at the Lussan se livre book fair at the end of August provided the perfect subject for our 3rd and final portraits of French crime stories writers.
As we had a wide-ranging conversation about crime, while she was signing her novel Quand le Diable s'invite au Paradis (2019) and her thrillers Les Flammes de l'Enfer ne Suffiront pas (2021) and Tes Ténèbres bâtiront Mon Paradis (2023), we agreed to have a literary meeting with a focus on her writings...
Sandrine has a degree in Private Law from the University of Montpellier,
and has also studied behavioural sciences and profiling,
She "gives conferences and workshops in forensic science
for the public in the Gard, Vaucluse, Alpes Maritimes and Var regions "*.

MEET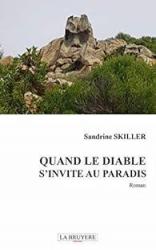 Hello Sandrine,
And welcome to the blog's portrait gallery.
You specialise in behavioural science and profiling. Is there a difference between the French art of profiling and that of the United States, for example?
I'm not a specialist. I discovered behavioural sciences and profiling several years ago. And what started out as curiosity quickly became a passion that I wanted to explore and share with others who are as interested as I am.
But let me point out that I am neither a criminologist nor a profiler. Profiling originated in the USA. Here in France, it is not recognised as such, as a profession in its own right I mean.
In France, profiling is more of a team effort: investigators, criminologists, psychiatrists... But it should be noted that there is a Behavioural Sciences Department within the IRCGN (Institut de Recherche Criminelle de la Gendarmerie nationale), attached to the Gendarmerie's Judicial Division.
You are a partner member of the Association Québécoise de Criminalistique (the French speaking official Division of the International Association for Identification). What benefits does this partnership bring you, both in the professional world and academic world?
It allows me to keep updated of the latest developments in forensic science and, of course, to expand my knowledge.
Your first book was a crime novel, which you describe as a tribute to Agatha Christie. How did you come up with it? What made you decide to write it?
Writing was an outlet at a difficult time in my life. I've always loved detective stories, so the idea of writing one came quite naturally...
Then thrillers took over...
What do you think is the main difference between crime fiction and thrillers?
Crime novels were presented as high-quality intellectual entertainment, a game based on fair play from 1920 to 1940.
What interests us is the murder party according to the rules. It was this English model that dominated crime fiction until the Second World War. The detective novel is an enigma given to the reader's intelligence. The investigation becomes an exercise in reasoning.

First stage: a crime scene,
Second stage: several hypotheses are presented to the reader,
Third stage: the solution...
Often the investigation takes place behind closed doors, with a small number of suspects, all of whom are known from the beginning.
How does your profession support your writing and how do you manage to combine your work with your career as a writer?
Well... I can't say it's easy. You have to be able to divide everything and show a lot of energy and willpower. You have to know how to impose rigour on yourself, otherwise you won't make it.
You also have to take time out to get some rest, but I have to admit that the enthusiasm of the readers is a huge stimulus!
Do some of the facts you study in class or at lectures you give provide the basis for your stories?
The only link between my lectures and my novels is serial killers. My work is one thing, writing is another.
Many writers admit to being fervent readers, drawing inspiration, a touch of style from the pages... What about you?
I'm an avid reader of all kind of literature, with a preference for thrillers of course.
But my style is entirely my own. In fact, some readers say to me: "When we read you, we think we're listening one of your lecture".
As for inspiration, it's all in my head! Long thought, long inspiration about what I want to write. This is probably one of the reasons why I only release a book every two years or so. It's a job that requires an enormous personal investment.
How do you organise your writing workshop and your research? Some novelists work with music, others write down the main lines of their book in a notebook... While others prepare a large board on which to hang the cards of the various characters and situations they encounter, a sort of chessboard of their plot.
I write either from sunrise to mid-afternoon, or from the end of the day until 1 or 2 in the morning. I do need peace and quiet to work.
And yes, I have a notebook where I write down all my research and organise my ideas. This notebook also serves as a reminder when a new idea comes up. Arrows, circles, colours and highlights that I'm probably the only one who can understand! A highly organised personal mess!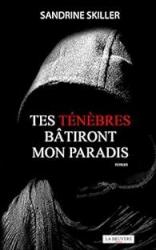 How long does it take you to finalise a novel?
I don't set any deadline. It can vary between 6 and 12 months.

What else would you like to say?
I'd like to thank my readers for the trust they've shown in my writings and by asking for a sequel to 'the Flammes de l'Enfer'.
I wrote 'Tes Ténèbres bâtiront Mon Paradis' for them, and the feedback has been more than encouraging!

Many thanks to @Sandrine Skiller for her collaboration on this article.
Source: *Babelio.com.