Riding in Aubussargues with Isabelle, at the Ecuries du Roc

Riding in Aubussargues with Isabelle, at the Ecuries du Roc
You are looking for riding a horse in the Gard ? Well, why don't you go to Aubussarges, less that 10 km from Uzès, and discover the Ecuries du Roc, a riding school owned by Isabelle and her husband.
A perfect place for a perfect time
At the door of the communal forest of Aubussargues, the riding school is situated in a preserved countryside and offers, with its 15 ponies and horses, a wide choice of activities, for beginners up to advanced riders.
Private lessons, group lessons, forest rides
Kids are welcome with the baby club - starting with 2 ½ old toddlers riding shetlands ponies, and advanced riders will receive the perfect training for special courses to prepare riding diplomas and competitions.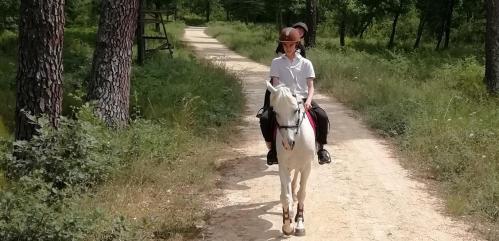 Everyone will find at the Ecuries du Roc what he is looking for : private and group lessons and, for all, the chance to ride in the nearby forest, a good way to test your riding skills. Saddle up and follow Isabelle in the woods for a 1 to 2 hours ride where you will be able to walk, trot and gallop in a beautiful landscape.
From the preparation of your horse to riding, and then unsaddling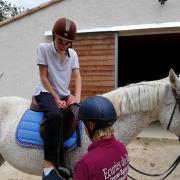 When coming to the Ecuries du Roc, you will follow all stages of the rider : preparation of your horse, saddling up your 4 legs companion, riding and rubbing him down. So get prepare to spend at least 2 hours there.
Board and half board at the Ecuries du Roc
You own a horse ? Don't hesitate to come with your companion at the Ecuries du Roc which offer you the possibility to boarding and even half-boarding him, as some horse owners give the opportunity for other riders to ride their horse up to 3 times a week and take him for a ride in the forest.
Many thanks to Isabelle for her friendly welcome and the ride in the forest. UzEssentiel enjoyed it very much.
The right address : Les Ecuries du Roc, 14 ter Rue du Roc, 30190 Aubussargues. From Monday to Saturday, 8.30am/19pm, Sunday 8.30am/12am. For nformation and booking, please call 06 23 16 48 42