The apricot of Provence, a ray of sun on your table

The apricot of Provence, a ray of sun on your table
Tasting the apricot of Provence, it is biting in a sunny fruit.
Great for sweet and salty dishes, you can find it on the markets from June to August, and eat it stewed, in jam…
Orange coloured, with pinkish « cheekbones », the apricot of Provence is melting down in the mouth.
Bergeron, orangé de Provence, rouge du Roussillon
The apricot tree, named Prunus Armeniaca, is native from China. It first came to France from Italy and Spain, around the 15th c.
There are many species of apricots, such as the bergeron, from the Rhône valley, the orangé de Provence, from the Drôme and the Vaucluse, the orangered, the bergarouge, the famous Red of Roussillon, AOC (controlled designation of origin), the Stark Early Orange…
Recipes
Goat cheese and Apricot bricks
Cut some filo pastry in squares. Melt some butter to grease the filo (use olive oil if you prefer).
Cut the goat cheese and the apricots in small dices and brown them in a pan.
Put a full table spoon in each filo pastry and close. Then brown it in an oiled pan. It's ready !
Roast chicken with apricots and zucchini
Prepare you chicken (or duck) with some salt and pepper.
Cut in dice the apricots and the zucchini.
Put the chicken, the apricots and the zucchini in a dish and place it in the oven, add some branches of thyme and rosemary and add a dash of olive oil.
Cook for an hour or so at 200º. Baste the chicken if needed during the cooking.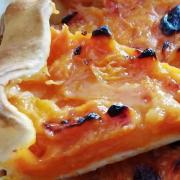 Tarte aux abricots
Preheat the oven at 200º .
Dice or cut in slices the apricots, add a little bit of flour and brown sugar.
Put the preparation in a mould, on top of a pie or pastry dough.
Cook in the oven for about 30 mn.
Enjoy !
Did you know ? Rich in fibres, in potassium, vitamins A and C, the apricot is a precious healthy ally. Dry, the apricot is perfect for every sportman.
Sources : * Panier de la Ferme.com, Calendrier du jardinage (Reader's digest, 1979), wikipedia.