Selected readings for September
Selected readings for September
We have selected some books you might be interested in...
First of all, the new edition of The Complete Book of French Cooking with a foreword by French cook Paul Bocuse.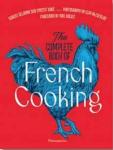 Legendary chef Paul Bocuse described this essential guide as "an invaluable kitchen companion" for novice and established cooks. Traditional French cuisine can seem daunting, but it's one of life's great pleasures. This comprehensive, illustrated guide to classic French cooking techniques and recipes, with detailed explanations from culinary school instructors, is an essential reference for the home cook. The secret to success is demonstrated in two hundred step-by-step kitchen fundamentals: knife techniques (chopping, slicing, paring), cooking methods (braising, grilling, frying, steaming, poaching, roasting), sauces and stuffings, eggs, and dough.
One hundred sixty-five classic recipes—onion soup, quiche Lorraine, boeuf bourguignon, tarte Tatin are graded with a three-star rating so the home chef can gauge its complexity and gradually expand their cooking ability. Nine recipes from Michelin three-star chefs and culinary artisans offer the ultimate challenge. Cross references to techniques, culinary terms, and complementary recipes facilitate navigation and the volume is completed with practical resources: visual dictionaries of basic kitchen equipment; cuts of meat; types of herbs, grains, spices, pasta, dried beans; a glossary; conversion tables; and an index of recipes, main ingredients, and techniques.
Paul Bocuse (1926–2018), widely regarded as the father of modern French cuisine, was named Chef of the Century by the Culinary Institute of America in 2011. Hubert Delorme and Vincent Boué teach culinary techniques at the Lycée Hôtelier in La-Guerche-de-Bretagne. Clay McLachlan is a lifestyle photographer (published on September 7, 2023).
Exerpt of the foreword of Paul Bocuse
"This book is an invaluable companion in the kitchen. Whether we are profes­sionals or home chefs, we need to check proportions or a particular technique, or we wish to prepare a forgotten classic or reinvent a dish, we all have to return to our books at some point to consult the culinary advice of experts. Yet books alone are not enough, and therein lies the complexity of our profession, which is both manual and scientific. Books certainly perpetuate recipes, but without the requisite skills, there can be no fine cuisine. Just knowing that an onion must be finely chopped or that sweetbreads must be prepared before cooking is no guar­antee of successful results. A great deal of training is required, as well as regular practice, to transform the theory in books into expertise. In times past, mothers transmitted precious culinary knowledge to their daughters. The youth of today have to seek out other mentors. Fortunately, opportunities abound, and what better starting point than this volume—an indispensable reference for everyone, from aspiring cooks intent on learning the basics to those honing their skills to master the fundamentals of French cuisine.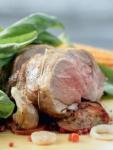 There is no doubt that this exceptional work is a continuation of the tradition of reference books that will contribute to the prestige of French cuisine world­wide. Many of these already occupy a prominent place in the kitchens of self-re­specting chefs. Notable examples are L'Art de la cuisine française au XIXe siècle (The Art of French Cooking in the ​​​​​​​Nineteenth Century) by ​​​​​​​Antonin Carême, as well as the 1903 work Guide culinaire d'Auguste Escoffier (published in English as The Complete Guide to the Art of Modern Cookery), the 1907 La ​​​​​​​Gastronomie pra­tique (The Encyclopedia of Practical Gastronomy) by Ali-Bab, and L'Art culinaire français par nos grands maîtres de la cuisine (The Art of French Cooking). It is no coincidence that ​​​​​​​Flammarion published the original French edition of the latter three works. Today, once again, Flammarion is taking a bold step by bringing together the two dimensions of cuisine in this book: knowledge and savoir faire. The volume is divided into two distinct parts and, with its numerous photos, takes you step by step through the techniques, before presenting one hundred and sixty-five recipes that make up the very foundation of French cooking.
The publication of a book of this scope gives me more than one reason for pro­found satisfaction: it pays tribute to our ability to transmit our unique savoir faire. For me, the passing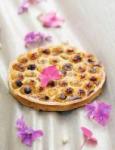 ​​​​​​​on of knowledge is one of the fundamental values of the cooking profession. In my restaurant, I have a constant intake of apprentices and cooks from all over the world. They come for hands-on learning experience: how to truss a chicken, prepare a fillet, put together elaborate desserts, and make a perfect soufflé. They observe my chefs, who are officially ​​​​​​​acknowledged to ​​​​​​​be some of the finest artisans in France, and repeat their every action. At the Institut Paul Bocuse, founded twenty years ago in Écully, cooking instructors teach all of these ​​​​​​​techniques to young students, who also learn management and hospitality skills.
With this new culinary bible, French cuisine will no longer hold any secrets for you. At last, all of the intricacies of preparing great French classics are explained from A to Z. So, peel, chop, slice, grill, braise, prepare stocks and sabayon, cook sea bass in a salt crust, tuck goat cheese into pastry parcels, and put together unforgettable vol-au-vents. As long as you wield your kitchen utensils, cooking will live on. And as long as there is cooking, there is hope!"
Some ideas of recipes? Sea bass in a salt crust or the famous Sole meunière and potatoes cocotte, the Provençal shoulder of lamb and vegetable tian, delicious.... or the Fillet of beef in a brioche crust. For dessert.... Let's have the must-eat traditional Alsatian mirabelle plum tart or the one and only typical Cherry clafoutis.

A year in French Style, Interiors & Entertaining by Antoinette Poisson, Vincent Farelly and Jean-Baptiste Martin, photographs by Ruth Ribeaucourt and a foreword by John Derian.
An historic townhouse on the Atlantic coast is home to a style and art of entertaining rooted in French tradition and elegance. Maison Lescop in Port-Louis, Brittany – the historic residence of an eighteenth-century merchant for the French East Indian trading company – seemed predestined to become the new home and restoration project for Vincent Farelly and Jean-Baptiste Martin, the creative duo behind the Parisian design team Antoinette Poisson. Enchanted by the poetic beauty of hand-painted domino paper prints – from floral and fauna to geometric and ikat – Farelly and Martin have appointed their new home with elegant decorative touches: handcrafted lampshades, wallpaper-lined cupboards, assorted table settings and luxurious textiles.
Celebrating a French lifestyle inspired by the charm of the eighteenth century – through its objects, gastronomy and traditionalsavoir faire – in A Year in the French Style, they invite readers to share their art de vivre throughout the seasons. From gathering shellfish on the beach to shopping at the local market, from antiquing to foraging, and from indigo textile dyeing to block-printing on artisanal paper, this exquisitely photographed book is an ode to timeless pleasures and a life well-lived . . . à la française. Farelly and Martin also include creative insight from their style icon friends, like American decoupage artist John Derian and French musician Clara Luciani (published on the 21st of September 2023).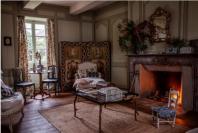 Through seasons, from Spring to Winter, from the Entrance hall to the Kitchen, read portraits, discover style tips, go on excursion and have some ideas of menu....
Excerpts
"Walking into the entrance hall of our house is the first step on the way to giving visitors a better understanding of our world. This space immediately reflects the general atmosphere of the welcoming, wood-paneled house. Thick planks, painted and set vertically, serve as partitions. In Port-Louis, this tradition can be seen in many houses of the same period. The simplicity of the planks highlights the beautiful finish of the Louis XV-style doors, and serves as a more rustic appetizer for the woodwork to be found in the other rooms of the house" (p 30, Spring).
"Style Tips: Creating a floral bathroom... When we arrived in Port-Louis, we wanted to create a pattern inspired by Chinese wallpapers made in the eighteenth century in Canton. They had been imported to Europe by the East India Company, in the same way as porcelain and furniture was brought over to satisfy Europe's appetite for the exotic in domestic interiors. These wallpapers, depicting an imaginary garden, were originally hand-painted. The scenes often featured a fence in the foreground, with lots of imaginary birds, insects, flowers, and fruits. Taking inspiration from numerous eighteenth-century fragments in our archives, we created the pattern called "Canton (p 45). Or Creating a hidden doorway: the renovation work taking place in the kitchen gave us the opportunity to create a bathroom on the ground floor. We set aside about twenty-one square feet (2 m2 ) of the kitchen to create this bathroom with an entrance near the front door. To avoid disrupting the harmony of the entrance hall and the symmetry of the Louis XV doors, a new opening was cut into the eighteenth-century wooden boards that make up the walls. These boards have an incredible surface finish. Chisel marks in the wood become visible in low-angled light, bearing witness to the craftsman's work and conveying a beautiful sense of artistry" (p 104, Summer)...
"The playroom is an intimate space; it is wall - papered with an indienne motif called "Mignonette," inspired by an eighteenth-century domino paper from Pierre Bousquet's collection. The wallpaper was hung in the center of the wood paneling, which was painted in a yellow shade we created for Ressource paints. In this room, we have set out some antique toys and childhood souvenirs around the Louis XVI-style bed. At one time, the bed had cane panels, but now it's been upholstered with one of our "Grenades" prints. This was one of our very first test printings on fabric" (p 192, Winter, see photo above)...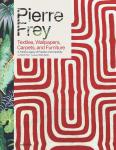 Then we continue with Pierre Frey, Textiles, wallpapers, carpets, and Furniture - A Family Legacy of Passion and Creativity
Dive into the fantastic and full of colors world of Pierre Frey. A very unique moment with the leading French producer of furniture, textiles, and wallcoverings, who seamlessly combines artisanal craftsmanship with modernity. Enchanting brocades and damasks, luminous handwoven silken velvets, traditional woodblock printed fabrics, striking contemporary patterns made into works of art: Pierre Frey, a family business founded in 1935, is famous for the variety and boldness of its inspired designs, and has asserted itself in the luxury market as the uncontested global leader in soft furnishing textiles and wallpapers. Having acquired the venerable houses Braquenié and Le Manach, Pierre Frey possesses one of the most important private textile heritages in the world.
Pierre Frey has worked with the Louvre and the château de Versailles, decorated castle interiors, and provides the fabrics and wallpapers of elegant private homes around the world—from Paris to Hong Kong to New York. Drawing from their archives of more than 25,000 documents, which date from the sixteenth century to the present, this indispensable volume will serve as a reference and a basis for contemporary inspiration to professional and amateur designers.
Patrick Frey, artistic director at Pierre Frey, joined the family business in 1970. Here he shares the legacy he is passing on to his three sons, the beauty and variety of his current and past collections, and the secrets of the firm's extraordinary success. Alain Stella has written many books, including Jacques Garcia: A Sicilian Dream-Villa Elena, Jacques Garcia: Twenty, Years of Passion–Château du Champ de Bataille; and Historic Houses of Paris. Mattia Aquila is a photographer specialized in interior design and architecture. His work appears regularly in magazines including AD Italia and Archiplan, and his photographs were featured in Venice: A Private Invitation (Flammarion, 2022) (published on September 28, 2023).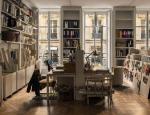 Excerpts
An Inspiring Legacy
"What crazy idea will Patrick Frey, our magician of a father, pull out of his hat next? This expectation, these surprises, are what make working with him so exciting, such a pleasure. Would we have joined him at Pierre Frey if we didn't already know about his enthusiasm, his creativity, his joie de vivre? Ever since we were kids, we have enjoyed the good fortune of having a father with a huge appetite for life, who savors every moment from morning to night and has a gift for sharing his sense of wonder. We grew up under the benevolent eyes of a man who constantly encouraged us to be curious, open-minded, empathetic, and respectful of others. So, as soon as we felt ready, and knowing that he would give us the space to really be ourselves, we jumped at the chance to join him in this venerable house—venerable, but, thanks to him, admirably disruptive.
What Patrick Frey brought to a profession that was resting on the laurels of its outdated traditions can not be overstated: a new dynamism, daring designs, vibrant colors. Because of him, decorating a wall can be the best way of expressing the originality of our deepest selves, through our individual sensibilities. That is why he has invented a multitude of designs in a deliberate striving for variety that is unequalled in the profession. The cardinal points on his compass are daring, freedom, originality, and novelty. As artistic director of Pierre Frey for going on half a century, Dad never ceases to amaze. Quite simply, he never does the same thing twice. Just think of the thunderclap that was Minton, issued in the early 1990s: a drawing of English porcelain teacups on the walls! The idea came to him one summer day in 1989, when he saw a cover of The World of Interiors showing two Minton teacups. He reinvented printed wallpaper, while at the same time creating for the company a bestseller for over twenty years, which is still part of the Frey image.
The same thing happened thirty years later with Beau Monde: it took real daring to present those life-size, fairy-tale silhouettes, for which he was the sole champion, and which have been one of our most extraordinary successes of recent years. Dad's magic hat is an inexhaustible cornucopia! All three of us travel a lot to meet our customers and suppliers. Everywhere, Patrick Frey's reputation is that of a creative leader with a global dimension. Everywhere, people are on the lookout for our next collection—especially our competitors! And this ability to surprise, this unique creativity, enthuses everyone who works at the company. The passion that drives us all comes from him. One other word: trust. A key word for him. All three of us work closely with him, thanks to him, each in their place, each one trusting in the skills of the others. So, thank you to this father who, with his characteristic generosity, has been able to bind the Frey family together so wonderfully!" (page 4).
The Archives: A Living Heritage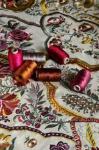 ​​​​​​​
"There is no such thing as amnesiac creation," says Philippe Starck. And yes, I believe that nothing is created without memory or without history. It is impossible to wipe out the past if we want to invent beauty. That's why a creative house like ours needs to preserve, conserve, and enrich its artistic heritage. Often, this heritage is where it finds its inspiration. For example, the floral motif of a two-centuryold indienne—its freshness, the vivacity of its colors, the impression of life it gives—was what triggered my imagination to create a contemporary design that would arouse the same emotion.
My father never devoted much thought to his archives. The very fine drawings by his designers, or the ones he bought in, were just put aside after production: no classification, no dedicated room. Many a time they simply never came back from the printers, weavers, or embroiderers. Shortly after I took over the reins of Pierre Frey, I started to keep everything. I knew I had to put all these documents in order, but I was short of staff, space, and time. In 1991, the arrival of a new treasure, the Braquenié archives, convinced me once and for all that we had to create a proper department dedicated to conservation. A few years later, I received a letter from Sophie Rouart, a textile historian, then assistant curator at the Musée de la Toile de Jouy: she was putting herself forward to develop the scientific conservation of the house's heritage, and we recently celebrated her first twenty years here as head of heritage. Twenty years of demanding, scientific work, as a result of which we can say, without a doubt, that Pierre Frey holds one of the richest private textile heritages in France, with more than thirty thousand documents from our archives, those of the houses we have acquired, and, of course, our current designs and various products. These textiles, papers, drawings, and sundry documents, whether two days or four centuries old, are digitized and integrated into a very powerful database. This tool not only is useful for the history of art, fashion, and techniques, but is essential to our creative process today. It's an instrument that we are constantly developing as we acquire new documents". (page 72)
A Fabric Collector's Book
"So, let's go inside this Ali Baba's cave and admire some of the treasures arranged with such order and care. Here I will mention only the very old pieces, although for me our splendid art deco collection is just as precious, as are the superb creations dating from the 1940s, which never cease to feed my imagination, and, of course, all the works by contemporary artists that we have produced recently. My favorite pieces are naturally the ones that tell great stories, and serve to write History with a capital H. These include the most original and spectacular items that are the envy of museums. First up, a purchase of my father's: looking like an old grimoire, it is a hefty book with a vellum binding that could date back to the sixteenth century. It was originally an antiphonary, a church book containing liturgical chants. A fabric collector who was clearly not devout cut out the pages covered with music scores—fragments of which still exist—and replaced them with sheets on which he glued textile samples. Who was he and when did he live? A study of the object has failed to provide the answer to these questions. Nevertheless, the fabrics have been dated to the seventeenth and eighteenth centuries and it is known that at the end of this period, as well as in the following century, public sales of old samples were regularly organized. Richelieu was collecting fabric samples as early as the seventeenth century. It is also certain that this collection does not represent the production of a single weaver, since apparently none remained active for that long. Was the collector a simple fabric lover? Perhaps. But I like to imagine that he was a fellow weaver, a kind of ancestor, who composed a book of inspiration. Among the 142 samples patiently collected, all very beautiful, I find the two oldest, from the sixteenth century, particularly amazing: a weaving with gold thread and a magnificent cut velvet of great finesse, in a deep red, almost bewitching, representing stylized flowers inscribed in an Ottoman pattern". (page 78)
Many thanks to Flammarion and ReadMedia.co.uk for the press kits. Photos French cooking©ClayMacLachlan, Photos Pierre Frey©Mattia Aquila