The cherry of the Gard
The cherry of the Gard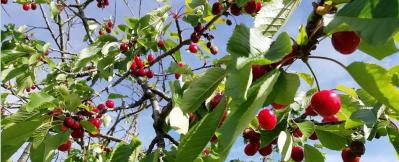 Even if the city of Remoulins lost its status of regional capital of the cherry after the 2002 floods, the fruit is still a local product.
With 600 species worlwide, and about 200 just in France, its harvest takes place between the end of May and mid August.
Morello cherries, Napoléon (Royal Ann cherries), burlat, all cherries are delicious fresh or ready to be used in cooking.
Here are some recipes
To be ready for the summer, try the salty cherry gazpacho.
Prepared as a traditional gazpacho, the sweet touch is given by the fruit.
About 500 g of mature tomatoes, some 250 g of cherries, 1 onion (or spring onion), 4 or 5 tablespoons of olive oil, a bit of salt, 1 green pepper, 2 or 3 tablespoons of vinegar, a quarter-litre of water, 50 to 100 g of bread crumbs.
Wash the tomatoes, the pepper, the stoned fruits, diced the onion, the bread crumbs and mix all together. Add the salt, the olive oil, and part of the water till getting the consistency you wish.
You can add some water before serving if the gazpacho has thickened meanwhile.
Cherries Clafoutis
1 glass of milk, about 200 g of flour, 100 to 150 g of sugar, 300 g of cherries (to stone), 1 tablespoon of rum or kirsch, 2 eggs
Preheat the oven at 200º.
Put the flour in a bowl and add the sugar. Mix. Then add the eggs, mix with the milk (if you think it's too thick, you can add some more milk). Then add the stoned cherries.
Put the preparation in a greased mould and bake for about 30 mn.
Cherries and mascarpone mousse
1 pot of mascarpone, 5 tablespoons of cream cheese, 1 tablespoon of fresh cream, some sugar (depending on how sweek you want your dessert), about 20 cherries (save some for decoration)
Put the mascarpone, the cream cheese, the fresh cream in a bowl. Whip with sugar. Add the stoned cherries and mix gently with a wooden spoon.
Pour in individual ramekins. Keep in the fridge till serving, putting 1 or 2 cherries on top.
Cherry cake
200 g of flour, 180 g brown sugar, 3 eggs, 40 g of butter or margarine, 300 g of stoned cherries, 1 tablespoon of rum.
Preheat the oven at 180º.
Mix the egg yolks with butter and sugar, then add the flour.
Whip the egg whites, and add delicately to the precedent preparation.
Add the cherries dusted with a bit of flour and pour in a greased squared cake mould.
Put in the oven for about 1 h at 180º.