La Yegros, Argentina at the gates of Uzès
La Yegros, Argentina at the gates of Uzès
Born in Buenos Aires singer and composer La Yegros shares the rhythm of Argentina and her passion for music in her inspiring songs.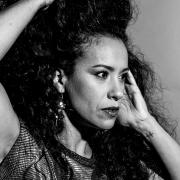 Chamamé, cumbia, traditional music and lyrical singing
Influenced by chamamé, a mosaic of traditional music, Columbian cumbia she listened with her family, Marian Yegros studied lyrical singing in high school too.
Joining the Argentinian group De la Guarda at the end of the 90ies, La Yegros met multifaceted artists, mixing classical and modern music.
2013, toward a solo career
Starting a solo career in 2013, Mariana adopts the stage name of La Yegros and Viene de mí arrives on the turntables.
Camarada de rebelión, florcita
Macumba en la despedida
No digas siempre, no digas nunca (Viene de mí)*
(Comrade of rebellion, little flower, Macumba when saying goodbye, doesn't say ever, doesn't say never)
The music playing on the album has in turn Latin American accents that La Yegros loves, adding to it a pop rhythm. The album is a true success thanks to colorful and inventive videoclips.
Then came Magnetismo released in 2016, where the sound is resolutely modern (with electric guitar in the Atormentada song for example), not forgetting the traditional folk music (with accordion so popular in Argentina, or percussion) that La Yegros appreciates so much.
Yo soy mujer hijita de la calle
Debajo del tatuaje que me cruza el talle
Yo siento que late la naturaleza (Sube la presión, Album Suelta)*
(I am woman, Daughter of the street, Under the tattoo which goes round my waist, I feel nature beating)
Then came Suelta in 2019, even more mature and creative that the precedent albums, and where we can listen to 10 new titles, like Sube la presión, Alegría or Tenemos voz.
Questions and Answers
Hello Mariana, and many thanks for sharing some time with the readers of UzEssentiel.
You will be in concert in Uzès, on the 27th of November at L'Ombrière. Which titles will you be singing ?
We will be singing some songs from Suelta, and some titles coming from our first and second albums, which had been played so many times with success and that our public enjoyed. Some titles will be sung in a different version, more dance, and best suited to live music.
Between those songs we had chosen to play, there will be probably Viene de Mi, Chicha Roja, Trocitos de madera. And some surprises !
Suelta is your last album. Are you writing new songs and, if it is the case, what will be the difference with the first 3 ?
We are currently working on a new album and we are thinking about the main character to give to this fourth album. We will know very soon what it will be.
Your inspiration comes from South America, Argentina of course, your country, but as well Columbia, Brazil. Then you add some modern touch, with pop and funky sounds and new instruments, such as the electric guitar. How do you mix all these different sounds ?
In some ways, it is an intuitive work. Combining the electronic music with the folk sounds leads me and my group to a sonority which is truly me. I am like a fish ! Raised in a family deeply influenced by traditional music and, in the same time, by the rhythm of a modern city like Buenos Aires, helps me get to a natural and smooth music mix.
I worked with Argentinian friends too, such as Daniel Martin, composer of Viene de Mí and some other beautiful song, and Gaby Kerpel, producer of all my albums, who helps us compose the music, we found that our melody had its own personality, making of our concerts a unique journey along with the public.
While in Europe people find it a little bit exotic, playing accordion makes our music sounds more familiar to the public, connecting it to his own roots, feeling like at home.
To you collaborate with other artists, during your concerts or while composing your albums ?
Well, yes in fact, on every album we compose. We like to invite musicians who bring us their own colors and skills, their own creativity.
It is the case, for example, with the Scottish singer Soom T, the Columbian group Puerto Candelaria, the Argentinian composer Gustavo Santaollalla, the Bolivian singer Miss Bolivia, and of so many more.
Do you have other concerts planed in France or abroad in the next months ?
The concert at L'Ombrière will be the last one of the year 2021. Then I will go back to Argentina after 2 years away from home, due to confinement. This will make our concert at L'Ombrière a very special one for us.
Many thanks to La Yegros and to François Guéritot, La Yegros Management, for their collaboration with this article.